Take a video tour of April Anson's 114-square-foot sustainably built home.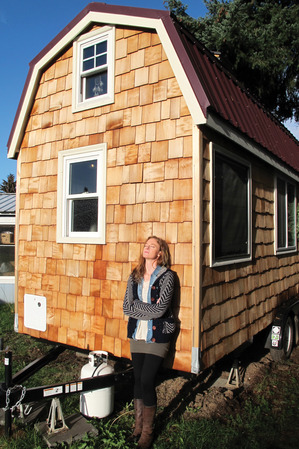 Anson is a graduate student in English who is practicing her sustainability values in her daily life. Read the Cascade story.
She gives a tour of her tiny house in the video below. The house is composed almost entirely of reused materials. Anson salvaged a large, half-moon window for $30 and installed an old school desk that she found by the side of the road. The wood floor is composed of old bleachers from a gym in Wyoming.

The walls are made of beetle pine wood that was sustainably harvested; the wood has deep hues of purple and blue, a result of toxins that are emitted to fend off beetle infestations, Anson said. The wood is considered irregular and is cheaper for that reason, but Anson cherishes the swirls of color that give a marbled effect to the wood. Water is supplied from a hookup on the property and electricity comes from an AC/DC converter that runs off a standard outlet. Total cost: $13,000.


"There's this joy or high I get in recognizing that an object has multiple uses," Anson said. "It's this little logic puzzle."

Anson has developed a new appreciation for community, and for the "luxury" of space; she has found herself occasionally envying people with the sprawling mansions regularly featured in the media. But she's also learned to embrace the privileges she's been given--namely the family and friends who put in countless hours to help her realize her dream.

Just one problem: The close quarters means she can't host everyone for dinner at the same time.

"Having people over is a test of the comfort level of your friendship," Anson said, laughing.
—Matt Cooper