A geologist shares some of her favorite photos of Oregon's geological wonders—and destinations beyond.
Crater Lake, the Seastacks at Bandon Beach, ancient soils in the John Day Fossil Beds …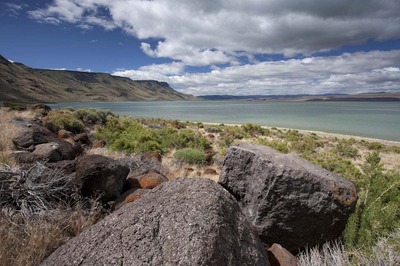 Marli Miller, a senior instructor in geological sciences, has collected on a website more than 1,600 of her spectacular photographs, covering 15 categories of earth science, from fjords to fossils to weathered formations—and beyond.
The images are searchable by keyword and she's selected for us a cross-section of her favorite geological pictures, like the photo (right) of Lake Abert in Southern Oregon.
Several of the photos come from University of Oregon geology field trips; others, from Miller's own excursions, alone or with friends. There are small versions of each image that link to larger versions and more extended captions.
"The photos are some of my favorites from the last five years or so," she said, on the website. "I like them because they remind me of special times, and they remind me how lucky I am to be able to go to all these wonderful places."
Miller's research covers the earth's dynamic interior, environmental geology, geology in Oregon and the Pacific Northwest, structural and field geology and the national parks.
"Ultimately, I think this whole science of geology boils down to teaching," Miller said. "If we can't communicate what we've learned, what good is it?"
—Matt Cooper