Veterans Oral History project captures the stories of UO student veterans
By Matt Cooper
"I thought we were doing good over there, I thought we were rebuilding the country. But the longer I was over there, I was like, 'What the hell are we doing here?' "
Josh Yates, Marine Corps sergeant, 2003–9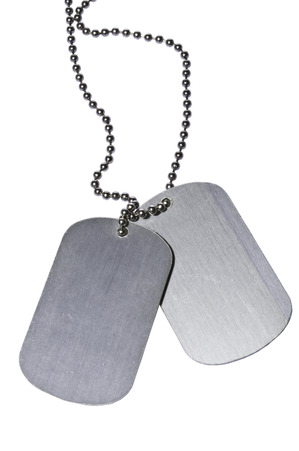 Every year, hundreds of thousands of U.S. veterans die without having fully told their stories, taking with them rich experiences of military service that haven't been formally preserved. For Sergeant Josh Yates, that's a tragedy.
Yates, twenty-seven, who served six years in the U.S. Marine Corps in Iraq and Japan, has a deep respect for history. He's majoring in this field as an undergraduate at the UO, and it's possible he'll someday be at the head of a classroom himself, teaching history at a university.
History, according to Yates, is a precious resource and a malleable thing—it can be changed by whoever is writing it. That's why he jumped at the chance to participate in the Veterans Oral History Project, a program to record the military service of UO students. The sensational images of war that fill movie theaters and TV screens represent only a sliver of what military service is actually like, Yates said. He wants to help fill in the blanks with more accurate information.
Yates has been through boot camp; he knows what it's like to serve under a gunnery sergeant who makes life, as he put it, "a living hell." He and the buddies in his unit have felt the camaraderie of spending endless hours stateside playing video games and listening to the White Stripes; Yates can also tell you—firsthand—what it feels like when a mortar hits too close to base.
"People don't realize, history is not 'was,' it's an 'is'—it's a living thing and people can distort it," Yates said. "How much would I give to have my record known for future generations to get an accurate account of history?"
"I'm glad I did it and I'm glad it's over. No regrets. I knew exactly what I was getting into. I don't like to hear, 'Oh, I'm sorry you had to go through that.' Well, I'm sorry you have that opinion. I'm fine."
Jacob Pelroy, Marine Corps sergeant, 2005–10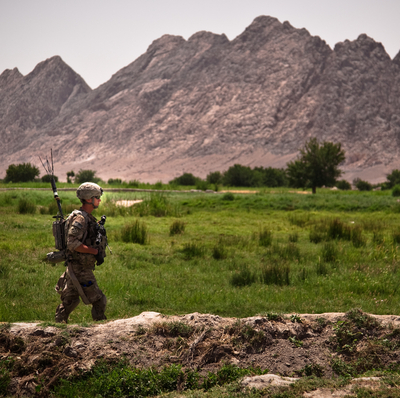 Established in 2012, the Veterans Oral History Project is a repository of interviews of veterans and active duty servicemen and women from the University of Oregon.
Interviews are conducted, recorded and transcribed by undergraduate students enrolled in a class that supports the project. The interviews are permanently housed in the archive at Knight Library and audio files and full transcripts are available on the library's website; the goal of the project is to have a transcription and audio file for each subject, which provides the public with two entry points for reviewing material.
Alex Dracobly, a senior instructor who teaches military history, created the project to address what he saw as a glaring absence of material documenting the military service of 300 to 500 former and current UO students in Iraq and Afghanistan. "We have been in the midst of one of the longest ongoing wars in the history of this country," Dracobly said. "Little was being done to document the experiences of a substantial part of the university community."
The project, which received startup funding from the Tom and Carol Williams Fund for Undergraduate Education and other sources, does more than capture the experiences of veterans, however. It also introduces students to the methods and practice of oral history and provides the public with a valuable collection of oral histories.
For Dracobly, that's enough. In discussions with veterans, he's been clear that he has no intention of doing anything more with the soldiers' experiences than preserving them; there is no research agenda, no plan to hype the project or create a buzz about it.
"It's much easier to persuade them to participate if I don't have a research agenda or an endpoint," Dracobly said. "A lot of them are pretty wary; they're looking at you like, 'what are you after?' I tell them, 'all I want to do is document your story as you want it told.'"
"I was so scared . . . I was so scared that my buddy . . . might be dead. And I cried, I cried right there."
Brian Miller, Army sergeant, 2004–8
There are two versions of war for Corporal Henry Huynh: The one he shares with veterans and the one he shares with everyone else.
Those who haven't served always ask the same question: "Did you kill anybody?" But in the oral history project, veterans are often interviewed by other veterans; Huynh, who served four years in Afghanistan and Iraq, was interviewed by Yates.
"If I'd been interviewed by a nonvet, maybe I would have held back on certain details," said Huynh, twenty-four, who is pursuing an undergraduate business degree. "But the interviewer knows the same b.s. and understands, so I didn't feel stupid. It put me in a comfort zone."
As a team leader in the infantry, Huynh led his unit into combat. During his interview, he described in detail a fifteen-to thirty-minute firefight and the rush of adrenaline he felt as he fired his rifle at the enemy—the tunnel vision, the euphoria of putting into action the years of training. The confidence of knowing, he said, that "someone is looking after your back, 24-7."
Huynh misses that sense of brotherhood today. He hasn't talked much about his service, and when he first returned to civilian life the absence of his unit left him feeling a level of anxiety. Talking about it with a fellow veteran has put him in the right frame of mind for school.
"I think (the oral history project) is a good experience, especially for people who just got out, to get over their anxiety— they're not alone," Huynh said. Then he laughed: "It's like a therapy session, I guess."
"The drill sergeant wanted people to post . . . naked pictures of wives and girlfriends on the wall. I was opposed to this . . . One of my other drill sergeants, in order to stir up problems with me, came by and asked me, 'Does this offend you?' . . . I said, 'Yes, yes it offends me to have Ziegler's wife with her butt hanging out in this picture.' And so then all hell broke loose over that. They had to take the pictures down and it went all the way up to the captain. The captain knew me on like a first-name basis."
Nathan Blakely, Army specialist, 2003–7
On TV screens and in movie theaters, combat is the aspect of military service that gets much of the attention, Senior Airman Brandon Butchko said. But combat wasn't his experience at all.
Butchko, twenty-seven, served four years in the U.S. Air Force as a Korean cryptologic linguist; he was never once in the line of fire. That's not to say his service wasn't demanding: To learn Korean, Butchko spent a year-and-a-half cramming for six hours a day, five days a week, and on weekends.
"It really helped build up my no-quit attitude," Butchko said. "I don't know if I had it going into military service but I definitely left with it."
As a veteran, Butchko has generally kept his service to himself, opening up about the particulars only around other veterans. He was frustrated by antimilitary protests and demonstrations, not knowing how he could relate his own experience, which was positive.
Butchko has fond memories of his time in South Korea. Traveling by train, he covered the country during his down time, from bustling Busan at the southern tip of the nation to the island of Muuido in the northwest. While younger Koreans were largely indifferent to his service, those who remembered the Korean War were "incredibly appreciative," Butchko said.
When he heard about the Veterans Oral History Project, Butchko knew he wanted to participate.
"It was fun being able to say whatever I wanted, for as long as I wanted," Butchko said. "It was neat to have somebody who was really interested, who cared enough to put together that project. I'll be so appreciative if even one person spends their afternoon checking it out."
"I was on a destroyer tender which is basically a floating garage. . . . I'm down in the bilge, so they can't see me working on the thing and the chief engineer of the ship comes down to talk to my buddy. He's like, 'Hey you're from that ship with chicks, right?' And he was like, 'Yeah?' And the guy was like, 'God, they have to be so useless, what do they do all day, their nails? Their hair?' And I was just like, 'Oh my God.' So I pop the valve out and put it on the deck plates and I come up and you can just see him turn white and I'm like, 'There you go sir, here's your valve.' And he was like, 'Did you . . . ?' And I was like, 'But you know, while I was down there, I broke a nail, do you have a file?' And he was like, 'Are we cool?' And I was like, 'No, we're not cool.'"
Clair Wiles, Navy lieutenant commander, 1991–2012
On a recent day in Dracobly's veterans oral history class, the tension in the air was palpable: The deadline for turning in the latest round of interview transcriptions was just two days away.
"I'm feeling a lot of negative energy in this room," Dracobly said, smiling sympathetically.
Transcribing the veterans' interviews is one of the toughest aspects of the project, students agreed; it can take ten or more hours of editing to produce a transcript for a two-hour interview, and difficult decisions must be made about what to cut and what to keep.
"I had to ask myself, 'do I want to use a certain term that was a racial issue?'" said Roger Rasmussen, who audited the class. "He used that term during the interview—I used it. If you didn't use it, you'd lose the whole impact of what this person said."
Army Specialist Michael Tieman, thirty-four, of the Oregon National Guard, said the effort required for the project is well worth it. He found it extremely rewarding to learn more about his fellow servicemen and women through their sharing of at-times deeply personal experiences. "Getting to know them is really where it's at," Tieman said.
One of the most sensitive components of the course is the subject of posttraumatic stress disorder. Dracobly retains an expert to teach the students how to interview veterans without triggering a painful memory.
Even so, students admitted to nervousness as they tried to balance a thorough, probing interview with respect for their subject's military service. But at a time when some feel a widening divide between the military and civilians, there was general agreement that the interviews can be a bridge.
"The project really puts a human face on people in the military," history major James Croft said. "These are real people who have real thoughts and real feelings about what they're doing."