A UO biologist reinvents herself as a global health advocate
By Matt Cooper
It's a grave error in thinking to believe the solution to Africa's AIDS crisis is the condom.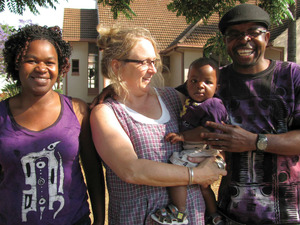 A charismatic nurse in rural Zimbabwe drove this point home to visiting biologist Janis Weeks (center right) of the UO. AIDS is caused by a virus, and Weeks, like many people first confronting the HIV-AIDS epidemic, had naively assumed that a purely biomedical approach could slow its spread.
The nurse, a strong black woman in her 50s, knew better. AIDS in Africa, she said, is mired in a complex web of factors that include issues of gender, culture and economics.
As in the U.S. and throughout the world, social stigma is one of the biggest hurdles to effective AIDS treatment in Africa, especially in rural areas. Word of a positive test can render one a social outcast. Men will steal their wives' anti-HIV pills sooner than visit a doctor and risk being spotted; women are reluctant to get tested and become the target of village gossip.
Even strong, intelligent women who know the risks. The nurse who taught Weeks about these hard realities in Africa—and delivered babies of HIV-infected mothers for many years without benefit of gloves or other protection—died in 2009 of an AIDS-related illness.
"She told me in a letter a few months before she died that she had contracted HIV," Weeks said. "She hadn't told anybody else because of her fear of stigma."
Most of us would consider ourselves lucky to make a single significant contribution to mankind. But Janis Weeks, having established an international reputation as a top researcher in one field, is doing it again in another.
Her previous research focused on basic neuroscience, using the seemingly miraculous transformation of a caterpillar into a moth to understand how steroid hormones help orchestrate the complex development of nervous systems in all animals, including humans.
Then Weeks reinvented herself. Spurred by the global-health crisis she witnessed firsthand while teaching neuroscience in Africa, Weeks changed her area of emphasis in biology. This has unexpectedly led to collaboration with a fellow UO neuroscientist to speed the development of new drugs that will kill worm infections in humans and livestock.
Weeks has also created new undergraduate courses at the UO on tropical disease and AIDS in Africa, honing her understanding of the issues while providing popular new curricula that fill a gap in university offerings.
It's not uncommon for scientists to branch in new directions simply because the research is exciting. That Weeks has been able to align her personal and professional passions behind a cause with global ramifications has imbued her with an additional sense of purpose.
"People always asked me, 'why would you work on caterpillars and metamorphosis?'" Weeks said. "It's just so cool and interesting and satisfying in its own right, I could do the research just for the joy of discovering new knowledge and not care if it has some big, cosmic, save-the-world function.
"Now," she added, "with the global health research, it's still really fun but it has direct relevance for something that I really care about. That's the big watershed change."
Unjust Things
She has always hated "unjust things."
Born and raised in Bremerton, Washington, with a union organizer for a father, Weeks developed a social conscience at an early age. She picketed in high school and almost flunked out of her freshman year at MIT due to her activism on behalf of the poor and against escalation in Vietnam. She phone-banked, marched and was tear-gassed, all a result of being "political," she says, for as long as she can remember.
She was less passionate about biology: She had no interest in the field in high school and planned to major in physics and astronomy in college. But then she took a course taught by Jerry Lettvin.
Jerome Ysroael Lettvin was the brilliant, cigarette-smoking cognitive scientist and MIT professor whose 1959 paper, "What the frog's eye tells the frog's brain," is one of the most cited documents in the field. Lettvin was the first to demonstrate "feature detectors" in the visual system and he authored scores of articles that crossed the conventional boundaries between neurology, physiology, philosophy and politics.
He was also just an enjoyable guy to be around. Lettvin was known for stunts such as feeding photocopies of dollar bills into a candy machine, arguing "if it accepts this, it's not illegal."
Lettvin opened Weeks's eyes to the wonders of neuroscience—what she calls the "geeky" end of biology. The field's reliance on instruments, quantitative analysis and the recording of electrical signals played to Weeks's strengths in mathematics and engineering, while promising to challenge her ever-inquisitive nature.
She pulls a massive, worn book from a shelf in her office: Cellular Neurophysiology , a bible in the field, 1,000-plus pages of primary research articles. This was Lettvin's idea of an introductory textbook—advanced material you'd expect to encounter in graduate school. "I still can't understand some of these papers," Weeks said, shaking her head with a mix of wonder and admiration. "But we followed Jerry's lead and dove in—and cut our teeth on some of the most influential papers in the field."
Following a bachelor's degree from MIT, a doctorate from the University of California at San Diego, a postdoctoral stint at the University of Washington and four years as a professor at the University of California at Berkeley, Weeks and her husband, Bill Roberts, arrived at the UO in 1989 to take positions with the biology department.
Hormones and Synapses
In her research on insect neuroscience, Weeks has made major contributions toward the understanding and treatment of neurological disorders. Studying the caterpillar during metamorphosis, she showed that a specific shift in steroid hormone levels triggered physical changes in a single synapse—the bridge between two neurons or nerve cells—that was critical for the transformation of certain behaviors.
As we age, the neurons in our brain also change, with scientists suspecting that cognitive decline results; the question is the extent to which one causes the other. By demonstrating that a natural change in hormone levels influences the structure and functionality of neurons, Weeks provided advances that have been embraced by the National Institutes of Health and advocates for the treatment of Alzheimer's disease and muscular dystrophy.
At that point in her career, Weeks was undergoing changes herself. After decades spent studying hormones and neural circuitry, she felt she had completed the main body of this work. She was intrigued by the idea of teaching something new and she thought more and more about her true calling. She had been traveling to Africa for years.
"I thought about Africa and my day job and I said, 'wouldn't it be nice if I could align those better?'" she recalled.
He was a boy of fourteen or fifteen, acutely ill from HIV infection, dehydrated and starving, so sick that he couldn't drink the protein shake that Weeks had prepared for him.
Weeks begged the hospital staff members to start him on intravenous fluids. But at this rural Zimbabwean hospital, the lack of money and resources means only the sickest get such treatment. It was only after he slipped into a coma that an IV was started.
"The horror of being a mother of kids around that age . . ." Weeks said, her voice trailing off. "He's on his deathbed, and now he qualifies to get IV fluids. No kid should die that way."
Weeks, easy-going and down-to-earth, is prone to skip around a bit when talking about something that excites her. This idiosyncrasy is only intensified when the subject is Africa.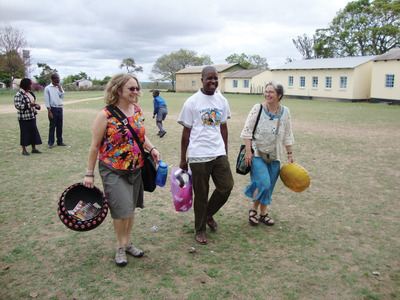 She first went there in 1996 as a member of an international teaching team in neuroscience. But it was Weeks's study of Zimbabwean music in Eugene—she plays marimba and mbira, both keyed instruments—that prompted later trips to visit her musician-friends in their homeland while she was abroad to teach. That's when she began to witness the staggering burden of HIV-AIDS, tuberculosis, parasites, malnutrition and other diseases.
Photo: Janis Weeks (left) and Marilyn Mohr of UO Libraries (right) visiting friends and fellow musicians
in Zimbabwe. (Watch a video interview with Weeks and Mohr, and learn about their music.)
As many as one in four adults in southern Africa have an HIV infection—the worst rate in the world. As Weeks traveled around Zimbabwe, hosted by the families and friends of the musicians she had studied with in Eugene, the sobering reminders were constant: Young men who were strong one year but skin and bones the next; women with the persistent cough of tuberculosis; children whose urine was bloody from worm infections.
"People just wouldn't talk about HIV-AIDS—'so-and-so died after a long illness,'" Weeks said. "I just wanted to shake everybody and say, 'have you been tested? Do you know what you need to do?'"
Weeks plunged in, working with Oregon-based nonprofits that operate community preschools, educate girls from AIDS-affected families and provide funds and supplies for medical facilities in Zimbabwe.
She also brought Africa to the UO. The best way to learn something is to teach it, Weeks said, and since 2006 she has developed two new courses: a biology course on tropical diseases in Africa and a Clark Honors College course on the challenge of HIV-AIDS, both of which incorporate patient case studies from her fieldwork in Zimbabwe and Senegal. She has also been active in the UO's African studies program.
In 2009 Weeks received the Biology Teaching Recognition Award and in 2011, the UO Martin Luther King, Jr., Award, the latter for "embodying King's humanitarian spirit and promoting diversity, social justice and equity."
But it wasn't enough.
Quick is Good
Weeks wanted to put her research to work for the things that mattered to her personally. There are neurological aspects to epilepsy, sleeping sickness and other tropical diseases in Africa—why not join a research project somewhere and contribute her skills in electrophysiology and the interplay between neurons and muscles? Weeks explored potential collaborations with faculty members at other universities but eventually decided that the need for daily interaction with colleagues would make long-distance partnerships unsatisfying.
She needed a local partner.
Kristin Robinson, manager of the Weeks laboratory, peered through a microscope at a transparent microfluidic device, a plastic and glass "chip" about the size of a matchbook.
Embedded in the chip were eight channels, each just micrometers wide—thousandths of a millimeter. In each pathway, a single tiny worm twisted about, its head stuck firmly in place at one end of the narrowing channel. Running from each channel were cables that carried the electrical signal of each worm's pumping pharynx—a muscular throat used to ingest bacteria—to a computer monitor that amplified and displayed the rhythmic contractions.
Robinson perfused the channels with an antiparasitic drug. Within minutes, all eight readings on the monitor had flat-lined, indicating paralysis.
"Quick is good," she said.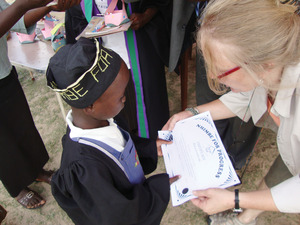 Quick is especially good where pharmaceutical companies are concerned. Two to three billion of the world's poorest people are infected with parasitic worms such as hookworm and whipworm, a consequence of their exposure to fecally-contaminated soil and water; the result is chronic illness, especially in children, hindering physical, cognitive and economic development. There are antiparasitic medicines on the market, but they can be unsafe and expensive, and parasites are becoming increasingly resistant.
Where are the new drugs?
Weeks and Shawn Lockery, a colleague in the UO's Institute of Neuroscience, are accelerating the production of new medicines by bringing microfluidics and electrophysiology together in the lab.
Weeks and Lockery have known each other for more than thirty years, dating back to their days as graduate students in the same laboratory at UC–San Diego. At the UO, Lockery had become an expert with the popular biology test specimen, the common nematode worm, Caenorhabditis elegans ; he had also learned the emerging field of microfluidics under pioneer George Whitesides, during a sabbatical leave at Harvard University. Lockery had been after Weeks for years to team up on a microfluidics project.
Having decided that she wanted to collaborate with someone closer to home, and seeing the potential for serving the continent she now visits annually, Weeks signed on with Lockery in fall 2010, during a mushroom-hunting trip on the Oregon coast with their two families. Weeks' husband, Bill Roberts, and their sons, Alex Weeks and Jackson Roberts, later joined the effort to develop software, databases and electronic equipment for the project.
A Quantum Leap in Testing
Combining their complementary expertise in neuroscience, nematode biology and engineering, Weeks and Lockery formed a UO-affiliated company, NemaMetrix, to commercialize technology that represents a quantum leap in testing for new antiparasitic drugs.
Today, the methods used to test the effectiveness of antiparasitic drugs are time-consuming and imprecise. Large amounts of test drugs are needed and the results don't indicate how, exactly, specimens are affected; false-positive hits must be rescreened, slowing the process further. The work is often done by monitoring the movement of the worms; after treatment with a test compound, worms may stop moving after several days, but many additional steps are required to determine why. Are they dead? Paralyzed?
In particular, current methods don't provide a way to determine quickly if a test compound interferes with a worm's nervous system or muscles, an important question for drug manufacturers.
But the patent-pending method that Lockery and Weeks have developed means that these questions can be answered quickly and accurately.
Their approach produces remarkably precise data: The electrical recordings, which are similar to electrocardiogram or EKG readings in humans, reveal the activity of muscles and neurons in the worms, allowing drug companies to zero in quickly on compounds that will disrupt neuromuscular function in worms without harming humans. The NemaMetrix chip can also be customized for environmental toxicity screening and for studies of aging, neurodegenerative disorders and other conditions.
Weeks and Lockery are about to start experiments on parasitic worms directly relevant to human health, and they're drawing support from major funders. Critical funding for validating the chip came from the Bill & Melinda Gates Foundation, which awarded them $100,000 from its Grand Challenges Explorations program. The Oregon Nanoscience and Microtechnologies Institute has also provided funding for chip validation and developing NemaMetrix as a business.
The question now is whether Weeks and Lockery can persuade researchers around the world to enhance current drug-testing methods with new approaches that—while comparatively easy to learn—might feel a bit foreign.
"Things like recording electrical activity and the accompanying instrumentation—that can be scary for some scientists; it's kind of viewed as a dark art," Weeks said. "But for people like Shawn and me who are electrophysiologists, it's 1970s stuff. We can do it with our eyes closed."
Wind at Her Back
She is a scientist, first and foremost.
She doesn't spend a lot of time toiling over unquantifiable concepts like fate or destiny.
Still, Weeks can't deny the serendipitous turns her life has taken: Meeting a magnetic professor who sparked her interest in neuroscience; learning a music form in her hometown that would spark a transformation to serve people on the other side of the globe; finding the perfect partner for a technological breakthrough not at some far-flung location, but just down the hall.
Years ago, as Weeks was pondering what to do with herself after completing her first body of research, she came across an audio tape of lectures called "The Yoga of Work." In it, author Rick Jarow draws from eight different cultures to develop a process for identifying the occupation that will be personally satisfying and also a contribution to the world.
Weeks has committed to memory one of the philosophies from the lectures: No matter what you're doing, if you're going in the right direction, the universe puts a wind at your back.
"I feel that the wind has been behind me," Weeks said. "I've felt that. Ten years ago I could never have imagined that this is what I'd be doing today."
Photos courtesy of Janis Weeks