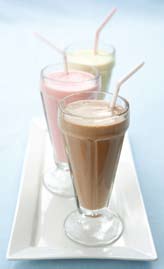 Milkshakes have an interesting tale to tell: Overweight women may not enjoy their food as much as their leaner counterparts.
A research team with UO ties used functional magnetic resonance imaging (fMRI) to examine how the brain's "reward circuitry" responds to chocolate milkshakes. They tested 76 females, ages 14-22, who had a range of body mass index (BMI) scores that were tracked across one year.

The team found that after drinking a milkshake, the reward circuitry response in the overweight participants' brains was not as strong, compared to the leaner women. Translation: They didn't receive as much satisfaction from drinking the milkshake.

Additionally, overweight participants with a particular gene variant, thought to decrease the number of dopamine receptors in the brain, were most likely of all to put on weight. Dopamine is a brain chemical released upon food consumption; the more dopamine that is released, the more pleasure someone feels while eating.

What does all of this mean? Overweight people may not find eating as gratifying as leaner individuals, so they may consume more to make up for it. Those who have the gene variant, which lessens the effectiveness of dopamine, face even greater risk of doing so.

The findings of the study were published last fall in Science. Lead author Eric Stice has a courtesy appointment in the psychology department and is senior researcher at Eugene's Oregon Research Institute. Cara Bohon, a clinical psychology doctoral student, also participated in the research.
- Amanda Miles