In celebration of the 100th anniversary of the Department of Theatre Arts -- and in anticipation of their alumni reunion this fall -- we share some notable successes of former theater students.

Many alumni featured below have their own web sites, blogs, etc. Click here for a list.

Harmony Arnold
Class Year: 2004, MFA in Theatre Arts
What She's Known For: Arnold is a Seattle-based freelance costume designer and fashion stylist. She has designed more than 30 professional productions, including one off-Broadway, 10 world premieres and 10 West Coast premieres. Seattle-area productions in 2008 included: Seattle Repertory Theatre's Boom, Hand2Mouth Theatre's Project X: You Are Here, Onward Ho! Productions' WAKE and also Undine, which kicked off the 25th anniversary of the NW New Works Festival held by On the Boards.
Currently: Arnold works as a professor of costume history and design at Seattle University, where she also manages the costume shop located in the award-winning Lee Center for the Arts.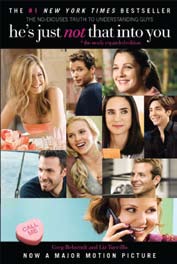 Greg Behrendt Class Year: 1991, BA in Theatre Arts
What He's Known For: Behrendt coined the phrase "He's just not that into you" as a consultant for Sex and the City, which he parlayed into the 2004 New York Times best-selling book with co-author Liz Tuccillo. He also wrote It's Called a Break-Up Because It's Broken with his wife, Amiira Ruotola- Behrendt, and is currently doing standup on the Greg Behrendt Is Totally Into You Comedy Tour.
Recently: His new relationship advice show, Greg Behrendt's Wake Up Call, completed its first season in February on SOAPnet, a cable television channel. The feature film He's Just Not That Into You, starring Drew Barrymore, Jennifer Aniston, Ben Affleck and Scarlett Johansson, premiered on Feb. 6 and was based on his book.
Jeffrey Cook
Class Year: 1995, MFA in Theatre Arts
What He's Known For: Cook does set design in Seattle, for productions including Rain City Rollers for House of Dames Productions (2000), Free Will and Wanton Lust for Printer's Devil Theater (2000), Waxwings for Book-It Repertory Theatre (2004), A Funny Thing Happened on the Way to the Forum for The 5th Avenue Theatre (2004), Wild Oats for the Seattle Shakespeare Company (2005) and A Terrible Price For Whimsy for Printer's Devil Theater (2008). He also designed the holiday décor for "Winterfest," an annual month-long festival at the Seattle Center and has worked in the scenic department of Seattle Children's Theatre.
Margie Kment
Class Year: 2006, BA in Theatre Arts
What She's Known For: Kment performs stand-up comedy at various New York City venues. She also produces and hosts Hold For The Laughs, a monthly comedy benefit show. Kment has worked at Richard Frankel Productions (The Producers, Hairspray, Gypsy) and Broadway Asia Entertainment.
Currently: Kment is producing indie theater as an associate producer for Small Pond Entertainment.
Kaitlin Olson
Class Year: 1997, BS in Theatre Arts
What She's Known For: Olson has played the role of Deandra "Sweet Dee" Reynolds on FX's It's Always Sunny in Philadelphia since 2005 and has had guest stints on Curb Your Enthusiasm, The Drew Carey Show and The Riches. She started her show business career in Los Angeles with The Groundlings, an improv school, and eventually advanced to their prestigious Sunday Company comedy troupe.
Currently: Olson plays the role of Sherry in the independent film Weather Girl, which premiered at the Slamdance Film Festival in January.
Ed Ragozzino
Class Year: 1953, BS in Speech; 1957, MS in Speech
What He's Known For: Ragozzino has been a drama teacher at South Eugene High School, performing arts department head at Lane Community College and executive director of the Eugene Festival of Musical Theatre. He was given the UO Pioneer Award in 1991, a distinction for individuals who are leaders and innovators in business, philanthropy, communications, government, education and the arts.
Ragozzino was an appointee to the Oregon Arts Commission from 1990-94 and a board member for the National Alliance for Musical Theatre.
Notable: He has done voice work for PBS, National Geographic, Discovery Channel and national radio and TV commercials. Former students include John Kitzhaber.
Heidi Schreck
Class Year: 1994, Theatre Arts
What She's Known For: Schreck won an Obie Award in May 2008 for her performance in Drum of the Waves of Horikawa, which ran in the fall of 2007. Obies, called "off-Broadway's highest honor," are given out annually by the newspaper The Village Voice to members of the off-Broadway theater community in New York City. Schreck also played the title character in the 2004 film Hedda Gabler.
Up Next: Schreck will write a play this year based on her experiences as a reporter in Siberia and St. Petersburg from 1994-96, using a P73 Playwriting Fellowship. The organization, which assists playwrights in the early stages of their careers, is also co-producing Schrek's play CREATURE in September 2009, along with New Georges, a nonprofit theater company.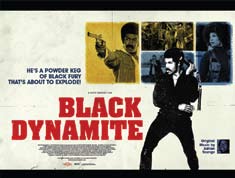 Jon Steingart
Class Year: 1990, BA in English
What He's Known For: Steingart produced the 1998 movie Thick as Thieves, with Alec Baldwin, Andre Braugher and Rebecca De Mornay, and the solo play Julia Sweeney's God Said "Ha!" He is the co-founder and executive director of Ars Nova, a nonprofit theater that focuses on emerging artists in New York City.
Up Next: Steingart served as producer of Black Dynamite, an homage to blaxploitation films starring Michael Jai White and directed by Scott Sanders. Black Dynamite premiered at the Sundance Film Festival in January, where Sony purchased it for $2 million. It should be released this year.
Rob Urbinati
Class Year: 1994, PhD in Theatre Arts
What He's Known For: Urbinati is a director and playwright in New York City. Most recently, he directed Villa Diodati for the New York Music Theatre Festival in September 2008. He has authored numerous plays and adaptations, including West Moon Street, Go! (with Go Takeuchi), Hazelwood Jr. High, Miss Julie in Hollywood, Shangri La and Karaoke Night at the Suicide Shack. Urbinati also is the director of new play development at Queens Theatre in the Park.
Wang Chi-Mei
Class Year: 1975, MA in Theatre Arts
What She's Known For: Wang has had a rich and varied career as an academic, director, playwright and actress. She retired in 2005 from the National Cheng Kung University in Tainan City, Taiwan, where she taught dramatic literature and playwriting. She spent the bulk of her career, from 1982-1999, at the Taipei National University of the Arts, where she taught acting, directing, and Chinese and Western theater history.
Wang has directed a number of her own plays, including Orphan of the World (1987), The Bride and Her Double (1998) -- which she translated from Chinese to English with Jeannie Woods -- and One Year, Three Seasons (2000), and classical operas such as Red Top Master Merchant Hu Xyue-Yan at the Peking Opera (2006).
Recently: Since her retirement, Wang has continued to work in the theater and write for underprivileged groups. She has continued her 30 yearsplus work with the deaf in theater by founding the Seeing Smiling Theatre of the Deaf in 2008, for which she also serves as artistic director.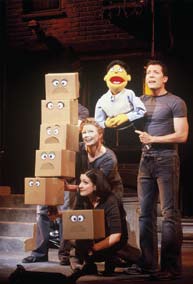 Jeff Whitty
Class Year: 1993, BA in English
What He's Known For: Whitty co-wrote the Broadway hit musical Avenue Q, for which he won a 2004 Tony Award for Best Book of a Musical. He wrote The Further Adventures of Hedda Gabler, which was included in the Oregon Shakespeare Festival's 2008 season in Ashland. Other plays include The Plank Project, The Hiding Place, Balls and Suicide Weather. As an actor, he has appeared on stage in New York in The Beard of Avon and Freedomland.
Up Next: Upcoming projects include a musical of Armistead Maupin's Tales of the City novels with music by Jake Shears and John Garden of the Scissor Sisters, and a musical version of the film Bring It On.
Search the UOAA Online Directory to connect with fellow alumni. Sign up today and register as a member of the UO Alumni Association Online Community. http://www.uoalumni.com/ service/directory/
Alumni profiles compiled by Amanda Miles.