Watch the special D.C. performance of Telling where the cast, director and co-authors were greeted by Michelle Obama.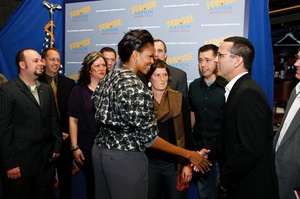 Telling: Eugene, a play that originated at the UO, is based on veterans' stories and is performed by veterans, including UO students.
Telling leapt into the national spotlight with an invitation to perform in Washington D.C. on Veteran's Day 2009. Among the attendees were First Lady Michelle Obama, Second Lady Jill Biden, and Senator Jeff Merkley.
Watch the video below of the Washington D.C. performance of Telling. Click here to read about a documentary about Telling.