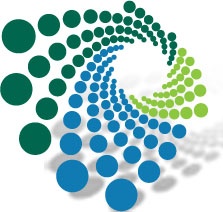 Learn how experts across disciplines are together advancing green chemistry.

Green chemistry is not just about reducing toxic solvents in the lab. It's a comprehensive approach that relies on many interrelated components to be successful. The UO is a global hub for the key elements that have made green chemistry a reality.
Learn more by clicking through on the links below.
Safer Nanomaterials — Scientists are combining the principles of green chemistry with nanoscience to anticipate potential hazards that could be the by-products of nanotechnology, in order to "design them out of the materials," says UO chemist Jim Hutchison. Hutchison is the founding director of the Safer Nanomaterials and Nanomanufacturing Initiative.
The goals of the SNNI are to develop new nanomaterials and nanomanufacturing approaches that offer a high level of performance, yet pose minimal harm to human health or the environment.
GEMS — Another area where UO has taken a leadership position is the development of GEMs, the Greener Education Materials database. This is a "living" online database through which chemistry educators can share, develop and edit experiments and curricula.
It is designed as a comprehensive resource of education materials including laboratory exercises, lecture materials, course syllabi and multimedia content that illustrate chemical concepts important for green chemistry. Each entry includes a description of the item and is searchable by a variety of parameters, including chemistry concepts, laboratory techniques, green chemistry principles, and target audience. Database entries incorporate both published and unpublished materials.
Green Product Design Network — The UO utilizes social networking to spur collaboration across disciplines via the Green Product Design Network, an effort that recognizes that the best solutions to environmental and sustainability problems will come from research cutting across many fields of inquiry and research.
The GPDN network includes leaders from the UO and beyond with expertise in green chemistry, product design, business and journalism and communication with an interest in inventing sustainable products that can be readily adopted and marketed to our larger society. The goal is to take ideas from invention to the marketplace in a way that has a more expedient and lasting impact on society.
Green Chemistry Education Network — Through this week-long, hands-on workshop for university educators that wish to adopt a greener organic laboratory curriculum, UO experts have trained 180 faculty members at other institutions, who in turn have influenced nearly 30,000 students across the country. Applications are available through the Center for Workshops in the Chemical Sciences (CWCS).