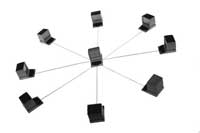 One of the best-kept secrets on the UO campus is the Network Startup Resource Center (NSRC), a non-profit activity
housed in Information Services that provides technical assistance to universities and nongovernmental organizations (NGOs) in developing countries.
This past summer, NSRC provided a rare opportunity for UO computer science students to get practical experience working side-by-side with engineers from NSRC's international clients — who came from as far away as Ghana, Bangladesh, Malawi, Nigeria, Kenya and Nepal.

In addition, eight Chinese students from Tsinghua University and Peking University also participated as part of a larger educational exchange with Pacific Rim universities called CPATHi 18n.

During the NSRC "summer camp," UO and NSRC network engineers led a lab-based course on the UO campus that provided practical skills in designing and operating computer networks. The program emphasized the importance of the campus network as the foundation in developing robust, high performance National Research and Education Networks (NRENs).

These configurations were set up so that participants could "design, test, modify, break the network and do it all over again," said Steve Huter, NSRC director.

This meant that UO students got hands-on experience in network design, an opportunity not normally available as part of their academic curriculum. Students also were exposed to another real-world reality: collaboration across cultural boundaries.

"U.S. companies have internationalized," said Ginnie Lo, associate professor of computer and information science. "And this workshop gave students an idea of the global nature of the computer networking field."

Globally relevant computer science education is the aim of CPATHi 18n — an NSF-funded collaboration between the UO and Portland State University. Through CPATHi 18n, the UO has forged relationships with leading universities in Asia through a series of cross-cultural workshops on the internationalization of computer science education. One of the next collaborative projects will be a summer school in global software development in China in 2010.

The NSRC has been promoting Internet technology deployment around the globe for nearly 20 years, with an ultimate goal of making it easier for U.S. scientists, engineers and educators to collaborate via the Internet with international colleagues. Its funders and supporters include the National Science Foundation, the Carnegie Corporation of New York, Internet Society, Cisco Systems and Google, Inc.

Watch video interviews with visitors from Malawi and other developing countries, plus learn more about CPATHi 18n, the NSRC and workshop sponsors.

— Lisa Raleigh