By Chrisanne Becker and Lisa Raleigh
What do you get when 100 UO faculty members from 30 programs and departments work together to promote sustainability?

The greening of a university.
And the expansion of UO's green expertise well beyond the boundaries of the campus. UO's leadership is influencing best practices on other campuses and making a direct impact on national public policy, green innovation in industry and more.
UO students, staff and faculty have a longstanding reputation for environmental sophistication and activism. It shows in the eclectic range of green initiatives on campus — from alternative transportation to student "sustainability ambassadors"; from an annual environmental law conference to the journalism school's "Greenwashing Index"; from faculty/industry partnerships via a high-tech "extension" service to a host of UO researchers — chemists, architects, geologists, economists, political scientists and others from dozens of disciplines — advancing the state of "green," both individually and collectively.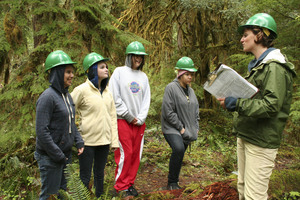 The campus has spawned so many projects committed to environmentalism the UO Office of Sustainability is having trouble counting them all. "The university is working to inventory the wide range of existing sustainability initiatives in curriculum, research, operations, even athletics," said Steve Mital, the UO's first director of the Office of Sustainability. "The more we find out, the more we learn that we're already heavily engaged.
"The goals of this office are to shrink our carbon footprint at the operational level and then to raise awareness of sustainability broadly," said Mital, who has long been a sustainability professional. Mital earned a dual masters degree in Planning, Public Policy and Management, as well as Environmental Studies, from the UO in 2001.

Mital is one of scores of graduates of the UO Environmental Studies program who have gone on to leadership positions in government agencies, regional and national non-profits and academic research settings. (See sidebar: "Tomorrow's Leaders Today.") The program is an interdisciplinary meeting of the minds that relies on the best thinking from a diverse range of traditional subjects to achieve its goal: to train future leaders in creative problem solving and responsible citizenship. A core of 15 faculty represent disciplines ranging from biology to geography to philosophy. More than 100 additional affiliated faculty come from academic departments far and wide — all united around the common theme of green.

"Building on our university's long tradition of environmental research and activism, our program sets the standard in interdisciplinary dialogue and collaboration," said Alan Dickman, director of the Environmental Studies program.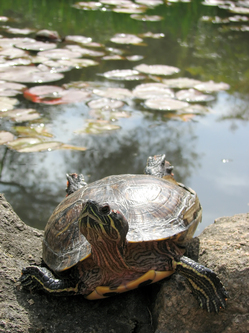 But studying environmental problems through an interdisciplinary lens means more than looking at a problem from different angles, Dickman explained. "By working together, social scientists, humanists and natural scientists may end up modifying the questions that each of them would have asked alone," he said, "with the result being that new kinds of answers are developed to existing environmental problems."

And it's not just faculty who are developing new kinds of answers. The year Mital was finishing his masters, he became the prime mover behind an innovative new program to help his fellow environmental studies students walk the talk — to get professional experience while putting sustainability principles into action.

This "service learning" program — now called the Environmental Leadership Program (ELP) — has trained hundreds of students over the past eight years — to deploy skills in the field by performing environmental mapping and monitoring and also to educate the next generation about sustainable attitudes and practices.

A SOLUTION FOR THE OVERWHELMED

"Students get so overwhelmed by the enormity of environmental problems presented in traditional classes," said Mital. "ELP gives them a concrete, productive way to engage."

ELP sends graduate and undergraduate students out into the community to team up with government agencies, environmental non-profits and local businesses to work on real-world issues and outreach projects. The program's co-coordinators, Kathryn Lynch and Peg Boulay, cultivate local and regional partnerships that address real community needs.

ELP students conduct their work in traditional classrooms as well as the outdoor classrooms of national forests, streams and wetlands. Their goals are to promote sustainability, environmental education and advocacy, as appropriate to the needs of their particular projects. Name an ecological threat, and they're probably studying it, monitoring it or preparing the next generation to avoid it.

Many of ELP's projects employ undergraduates as effective environmental educators for local schoolchildren. ELP raises environmental awareness in K – 12 students and imparts the knowledge and skills to help youth translate their passion into fruitful action.

ELP offers a multilayered approach to training the next wave of environmental change-makers:

• Graduate students act as project managers for selected projects, thereby advancing their skills in environmental research design and project leadership, while building professional contacts and networks. Their project teams are comprised of undergraduates who, under the mentorship and guidance of the graduate student leaders, have two terms to learn, master and implement the best theories behind environmental education —guiding hundreds of schoolchildren through multiple lesson plans, games and field trips.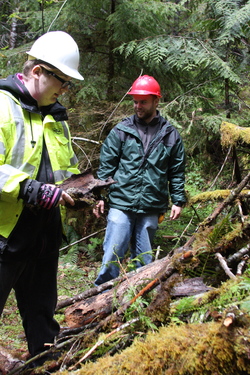 • Undergraduates identify strategies for addressing the goals of their community partners and then craft curricula for the classroom component, design and employ assessments and create activities that take their young charges "from awareness to action" (the unofficial ELP motto). The undergraduates take their lessons into local schools and take their students out into the field to experience the natural world first hand.

• K – 12 students from schools throughout Lane County get exposure to the UO's best environmental thinking and practices via the undergraduates who carry the message and knowledge to them. While most schools would love to get their students out into nature more often, staff and budget issues make this a challenging goal. ELP fills the gap, bringing together K-12 students and undergraduate environmental educators so that both have the opportunity to learn from field excursions.

When choosing issues, ELP doesn't just reach for low hanging organic apples. They ask hard questions about global warming, hunger, habitat, waste management and invasive species. A few examples:

• In 2008, undergraduates promoted the use of YouTube videos to foster an international dialogue among elementary school students on deforestation and the loss of macaw habitat in Southern Peru.

• In 2009, another team toured schools with a hand-made streamsimulator that demonstrates erosion, shows how land use affects local watersheds and explains the complicated issues surrounding dams.

• Teams of ELP students focusing on mapping and monitoring have surveyed and reported on the efficiency of solar panels in Springfield and monitored restoration projects for local watershed councils.

• In the past, ELP has recycled old televisions, diverted edible food from supermarkets to compost and food banks, and monitored illegal dumping.
One of ELP's signature strengths involves getting students out into the field for a more personal and physical experience of the world they are striving to understand and protect.

For instance, in spring 2009, middle school students traveled to H.J. Andrews Experimental Forest in the Cascade foothills for a hands-on exploration of the many layers that comprise an old-growth forest. The highlight was gearing up and joining the Pacific Tree Climbing Institute as they propelled themselves up into the forest canopy.

BIRD'S EYE VIEW OF OLD-GROWTH FORESTS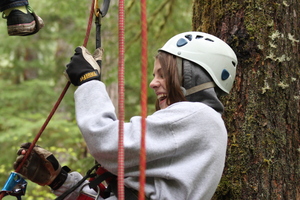 On a misty, chilly morning last spring, middle-schoolers in hoodies slipped into harnesses, climbed onto a platform and clipped their harnesses to the ropes dangling from some invisible point skyward. Then, with squeals of laughter and effort, the students mastered the moves to haul themselves higher up. Within a few minutes, their voices were no longer distinguishable from the ground. As the students climbed higher into the canopy, Pacific Tree Climbing Institute's guides, Rob Miron and Jason Seppa — two of the calmest, most supportive guys you'd ever want to meet in a tree — monitored the students' progress and reminded them to note the breezes, the sounds of the swaying branches, the tranquility.

Though the students loved climbing, their undergraduate leaders reminded them of their educational mission: to learn about how forests function. Suspended in the sheltering canopy, dangling and twisting gently on the ropes, students pulled out rainproof notebooks and captured their experiences of climbing to the top of an old-growth tree, to share with their political representatives.

While one team climbed, the other three teams visited other stations in the forest, learning about the plants, trees and animals that made up the local ecosystem — and learning to leave no trace when they visited. One team focused on survival skills, searching the forest floor for downed branches and sheets of moss to create a lean-to against a big, sheltering trunk lying on its side. Another learned how to scientifically measure the height of a tree. Yet another studied the stages of decomposition on the forest floor. At the end of the day, each team had been through all four stations.

By the end of spring, more than 100 middle-school students participated in the project, achieving an experiential understanding of the different layers that form an old-growth forest — from decomposing logs to overarching canopy — and a conceptual understanding of the ecosystem services provided by oldgrowth forests and why they are worthy of protection.

INTERNATIONAL GLACIER DIALOGUE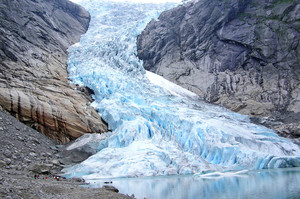 Another ELP project launched last year involved an international dialogue about glaciers.
Sometimes motivating students to move from awareness to action is possible only when a problem has been explored from multiple points of view. With that goal in mind, Cody Evers, an ELP graduate student, helped his team support school-age kids in Eugene as they blogged with new friends in Lethbridge, Canada, like pen-pals of old.

As a team, they were introduced to glaciology. What are glaciers? Why are they changing? To answer these questions, the students studied global warming and the human behaviors that impact this unique and finite resource. The students also learned that their perceptions differed based on their geographic locations — an important lesson for developing an angle of approach for a problem as complex as global warming.

As Evers explained, people already know what environmental threats we face. The question is: Why don't we change our behavior? Students and educators have to have a passion for environmental sustainability, but they also need to develop an action-oriented attitude, and they need the skills to tackle the problem — then they can act. ELP lesson plans guide students along this path.

This same model guides ELP graduate and undergraduate students as they engage their own passions, develop their skills in teaching and curriculum design and then practice those skills in the real world — inspiring and activating a new generation of environmental advocates that will follow them.

As undergraduates from yet another project — the Wetlands Team — explained, teaching happens on both sides. K-12 students look at the world differently than college students do — they see things their teachers miss, ask questions no one anticipated and learn on a variety of experiential levels.

Rather than focusing strictly on the science, the Wetlands Team took a cultural/anthropological approach. They focused their curriculum on a different kind of threatened resource: the lifeways of the Willamette Valley's Kalapuya Indian tribe.

Only a tiny fraction of the original wetlands remain in the valley, and this is where the ELP undergrads took their young students: to a site near West 11th Ave. in Eugene to study native plants and learn how they are used by the tribe.

TRIBAL TRADITIONS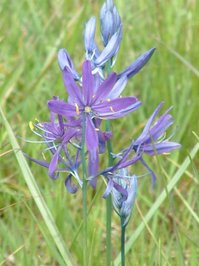 They studied the edible camas lily and cattail, learned how to twist cordage and heard about the burning traditions and ecological habits of the tribe. With help from the Willamette Resources and Educational Network and the Institute for Culture and Ecology, students developed a curriculum in which the Kalapuya took part, ensuring a cultural accuracy that benefited both the students and the tribe.

With projects like these, which introduce students to sensitive ecosystems, global perspectives on environmental threats and cultural conservation, the UO is not only making good on its green legacy, but ensuring a future legacy for all concerned — by imparting its best and its brightest ideas to a new generation of environmental leaders. As the threats from climate change become increasingly urgent, UO's researchers, environmental advocates, student ambassadors, environmental lawyers, green architects and a collaborative host of experts will continue to put awareness into action with real-world solutions.

Canopy project photos by Amanda Miles and Krysten Mayfair.