Several students participated in a special field class devoted to capturing the beauty and fragility of the McKenzie River through storytelling.
The McKenzie River is an essential resource for more than 200,000 Oregonians who rely on its clean water every time they turn on the tap. Running west from the Cascades to its confluence with the Willamette River in Eugene, the McKenzie is praised by locals and state environmental agencies for its sparkling clarity.
But for five students who participated in a recent class called MyMcKenzie, the river's water quality is only one part of a much more complex story.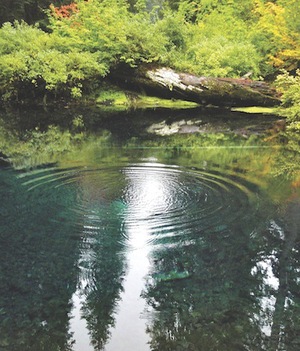 My McKenzie was a service-learning class in the Environmental Leadership Program (ELP) that allowed students to apply their academic knowledge to a community-based service project. It was designed by ELP co-director Peg Boulay, with the aim of connecting the science of watershed health and conservation with the craft of visual communication and storytelling.
Right: "Ripples" by student Angelina Hellar.
In addition to lessons about the river's ecosystem, the course focused on digital photography instruction, website design, interpretive display creation and other public outreach vehicles. Field trips included visits to lakes, reservoirs, waterfalls, hiking trails, bridges, dams, parks, a hatchery and even a lodge and fly shop—to observe the river from many perspectives and photograph the watershed's landscape.
"Art provides a personal, experiential connection to the environment and can show the hidden personality of a place," said Boulay, whose goal was for students to gain a multifaceted understanding of the river and then share their discoveries with the community. "We promoted conservation by illustrating the connections people have with this beautiful yet fragile river."
From hundreds of photos amassed during fall quarter, the class selected some thirty images for photo essays that they featured on the student-designed
MyMcKenzie website
. The students also participated in the McKenzie Christmas Bazaar to share photos and stories with residents and created a photo gallery that was on display in Columbia Hall on campus all year.
Students brought diverse perspectives, which informed their exploration of what makes the McKenzie special.
"It's important to show the beauty of this river and that it is really clean, but up close it's also starting to show signs of stress," he said. "Our salmon numbers are way down. The wild spring Chinook salmon and bull trout—you can't fish for them anymore. And algae, you used to never see it. Now, you put out a rock and let it dry and it has got a cakey powder on it. That wasn't always the case."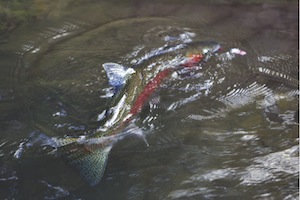 Left: "The Fight," by Mason Trinca.
Cassidy Ventura, a senior environmental studies major from Hawaii, offered the perspective of an outsider to the area. "On the islands, conserving the limited fresh water available is such a big issue, but here—there is so much water," she said.
"I'm in amazement looking at the volume of water in Clear Lake and Great Springs. These places are unique in the world. We learn about conservation issues, but a big part of promoting conservation is just recognizing what we have."
—Patricia Hickson