Doctoral candidates Daniele McKay and Leslie McLees dig deep for answers to their research questions.
McKay's work in geological sciences will help central Oregon prepare for volcano eruptions. McLees, of the geography department, is enabling developing cities in Africa to use urban agriculture for food production.
Both were recipients of 2010-11 Public Impact Fellowships, a program of the UO Graduate School that awards $6,000 stipends to recognize doctoral research that benefits society. (The current recipient is Raj Vable, whose work in rural India is featured in Cascade. You can also view a video about his work.)
Analyzing Ash
McKay, 39, of Bend, is using her fellowship to defray the costs of travel, equipment and analysis associated with her research on cinder cones—small volcanoes that generally erupt once—in the Central Oregon Cascades.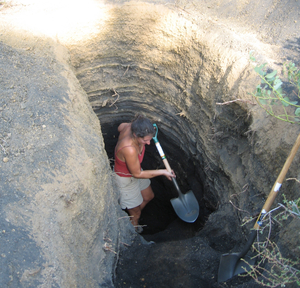 Right: Daniele McKay digs a pit to collect samples of ash produced during the eruption of Lava Butte (~7000 years ago), just south of Bend, OR.
The many cinder cones there have been mapped but little is known about how explosive they could be—that is, the amount of lava and ash that they could produce and the area that could be affected. This prediction is crucial to citizens of the region because lava flows from a cinder cone can wreck water supplies and agriculture and bury roads under as much as 30 feet of solid rock.
Determining a cinder cone's capacity for devastation is largely a measure of the amount and consistency of ash produced by those that have previously erupted. In other words, McKay can determine the magnitude of an eruption from the volume of ash produced and the size of the grains that compose it.
After identifying cinder cones for analysis, McKay sets out on foot in an area around each cone, following prevailing winds to collect ash from eruptions that took place more than 1,000 years ago.The ash is loose, sandy material, rusty-brown or black in color, often visible along mountain passes in Oregon.
Laboratory analysis determines whether the samples she collects are a match for the cinder cone under study. With that, McKay is well on her way.
"It's just documenting what these cones have done in the past and saying 'here's what we could expect in the future,'" McKay said. "We want to know what we would be dealing with—lava flow, ash production—or both—that affects transportation and agriculture."
The Why of Where
McLees, 34, of Seattle, used her stipend to support travel and living expenses during a 2010 project in Dar es Salaam, Tanzania's largest city. She'll incorporate the project into her dissertation on urban farming and development in cities of the global south, which she will defend in May.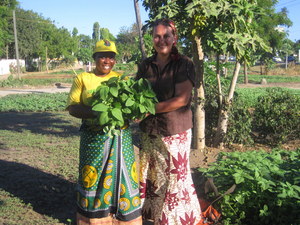 Left: Leslie McLees with a farmer in Dar es Salaam.
Urban farming is a critical link in the bustling seaport's food chain—40 percent of residents engage in urban farming to some extent. Yet the practice has not been legalized and farmers are dismissed as "backwards," McLees said, struggling to get cooperation from city officials on issues such as encroaching development.
McLees recruited urban farmers across "Dar" to attend a five-day workshop that covered composting, marketing, soil maintenance and pesticides. Perhaps most importantly, the event afforded urban farmers a rare opportunity to voice their concerns to city leaders.
"It was empowering to the farmer—they don't get to be in front of powerful people," McLees said. "The passion and eloquence with which they spoke—I was really proud to be a part of that."
Working with a Canadian non-governmental organization, McLees also helped farmers establish a network to share information on best practices and present a unified voice to officials. The Tanzania Food and Garden Network is modeled after a successful effort in neighboring Kenya and the concept could spread across the country, McLees said.
McLees studied music and zoology as an undergraduate but it was a trip to Hawaii in 2001 to monitor turtle nests that put her on the path of geography. She was fascinated by the convergence of political, economic and environmental concerns represented in a community debate about protecting animals that are a tourist attraction.
"Geography is study of 'the why of where,' " McLees said. "I'm interested in a social perspective grounded in place."
— Matt Cooper