A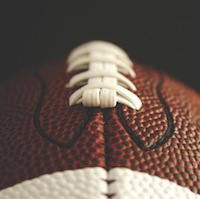 study by UO economists, released just before the Rose Bowl, has been picked up by the media far and wide.
Is a university's football team's success linked with declining grades? A study by three UO economists drew exactly this conclusion, setting off a maelstrom of media coverage regarding the correlation.
The research findings, released at the end of December 2011 by the National Bureau of Economic research, were first picked up by Inside Higher Education, Atlantic Wire and the Associated Press. The New York Times was quick to follow.
By mid January 2012, versions of the story had been picked up by more that 500 media outlets, including radio, TV, blogs and newspapers.
The study "Are Big-Time Sports a Threat to Student Achievement?," analyzed the transcripts of thousands of undergraduate students from 1999 to 2007, a period of time during which Duck football wins fluctuated significantly: in the worst year, the team lost the majority of games and in the best, it won more than 90 percent of the time.
In years where the Ducks were more successful, the research showed alcohol consumption and parties increased during football season, while grade-point averages among male (but not female) students decreased.
The authors of the study, economics professors Jason Lindo and Glen Waddell and economics PhD student Isaac Swensen, attributed both the timing and the controversial nature of the findings for the media attention.
"There are not a lot of studies that critique college sports," said Swensen.
The links below feature some of the more prominent media pick-ups:
- Winning Football, Falling Grades Inside Higher Ed
- Guys' Grades Suffer When College Football Teams Win, Atlantic Wire
- Study: When a Football Team Wins, Male Grades Drop, Associated Press
- Football Victories Lobotomize Male Fans, Wall Street Journal blog
- Study Links Winning Football and Declining Grades, New York Times
- Football wins can turn A's into B's, Eugene Register-Guard:
- University of Oregon Study on Football and Grades Leaves Some Skeptical, The Skanner
- Study Shows Football Success Can Lead to Lower GPAs, University of Alabama student newspaper: The Crimson White

—Patricia Hickson