By Patricia Hickson and Lisa Raleigh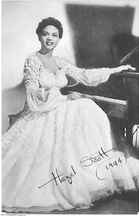 The McCarthy era is remembered for the injustice of the Hollywood blacklist, the livelihoods it ruined and the shameful public spectacle of alleged Communists being forced to name names or face the alternative: endanger their careers by refusing to cooperate with the House Committee on Un-American Activities.
Directors, screenwriters, actors, musicians and other artists suffered under the frenzy of red-baiting that characterized the beginning of the Cold War era—some of them well known (Charlie Chaplin, Leonard Bernstein, Lillian Hellman), but many of them lesser known, and fated to remain obscure because the blacklist destroyed their careers.
In her forthcoming book,
Black and White and Red All Over: Women Writers and the Television Blacklist,
UO professor
Carol Stabile
looks at some of the artists whose contributions to broadcasting were all but obliterated during the McCarthy era.
Stabile, a professor of English and journalism and director of the Center for the Study of Women in Society, focuses especially on the women of the blacklist and the circumstances that made women particularly vulnerable as targets. While all the women targeted allegedly posed a danger to national security because of their Communist Party affiliations, Stabile offers evidence that the real threat they posed was their proclivity for expressing progressive viewpoints.
Additionally, Stabile theorizes that women in television may have been accused of communist sympathies simply because of their gender. In an era when it was rare for a woman to have her own job, those who had successful careers defied the idealized postwar image of women as unambitious homemakers. Doubly suspect were women who were black or Jewish, as their success represented a challenge to racial and ethnic stereotypes as well.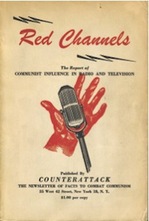 In short, says Stabile, the red scare reached far beyond its purported aim of exposing individuals who might betray our national interests to controlling and silencing those who represented subversion of a different kind: a threat to the gender and racial status quo.
Stabile believes that, had these women been allowed to continue in their careers, their work would have promoted a more inclusive perspective on family and gender than that typified by the era's most successful television programming.
These were women, writes Stabile, who were "telling stories that could not have been more different than the stories that would be told about the American family on
TV.
"
Black and White and Red All Over is the culmination of more than ten years of research into the lives and work of several women whose voices were suppressed by McCarthy-era injustices.
Stabile's chief concern are those named in a book called Red Channels, perhaps the most infamous piece of anticommunist propaganda of that era.
Published in June 1950 by a rightwing organization called the American Business Consultants, the book quickly became known as the "bible of the blacklist" and was distributed for free to broadcast advertisers, sponsors and network executives. It contained the names of 151 individuals in the media industry—including forty-one women— and a list of activities affiliating them with procommunist attitudes.
The first career casualties resulting from the publication of Red Channels were both women and both performers, but they each drew the attention of the anticommunist accusers for very different reasons.
The Performers:
Jean Muir and Hazel Scott
Jean Muir

Jean Muir was the kind of willowy blond conspicuous in Hollywood films of the 1930s and '40s. Though not often a leading lady, she had steady work and played opposite some of the industry's most famous men in more than twenty films.
But Muir's personal life represented a major departure from the typecast ingénue she played in the movies. An outspoken advocate of civil rights, she made contributions to the movement that were recognized by the National Association for the Advancement of Colored People (NAACP). Muir was invited by the
NAACP
to serve as a guest panelist and key speaker at a number of events and protests throughout the 1940s. On one occasion she even shared the stage with First Lady Eleanor Roosevelt.
In 1950 Muir, then thirty-nine and living with her husband and children in New York City, was offered the role of Henry Aldrich's mother, Alice, on The Aldrich Family, a popular radio program adapted for television. It was a big break. Television was a growing phenomenon and a sitcom role was coveted.
But just months after being cast,
Red Channels
was published. Muir's name was among those listed, and she was fated to become the industry's first casualty when
NBC
abruptly cancelled the season's first live taping of the sitcom, issuing a statement announcing Muir had been fired because she was a "controversial personality whose presence on the show might adversely affect the sale of the advertiser's product."
It was a turning point in Muir's life. She was never again able to gain significant roles on the screen and struggled with alcoholism and depression for decades.
Hazel Scott

In contrast to Muir, Hazel Scott, a successful African-American actress, represented an affront to the status quo both on and off screen. Scott had landed significant roles in several Hollywood productions in the 1940s and was also a talented jazz musician and stage performer.
Early in the summer of 1950 Scott's variety program, The Hazel Scott Show, debuted on television, making her the first African American to star on television. The program was centered around fifteen minutes of music, most often performed by Scott herself. Though well reviewed, the network cancelled the broadcast in September of that year. Hazel Scott had been listed in Red Channels.
Incensed, Scott went voluntarily before the House Committee on Un-American Activities, but instead of providing a confessional testimony, she took the offensive and challenged the strategies and integrity of the blacklist movement. Her accusations won Scott no employment favors and she soon left the country, traveling through Europe as a jazz musician and singer. She would not appear again on television until the late 1960s.
The Writers:
Vera Caspary and
Shirley Graham DuBois
Writers, while not as visible to the general public as performers, received special scrutiny during the anticommunist witch-hunt. Those who made the blacklist allegedly had radical agendas; their purported intent was to subvert American values through scripts that would encourage widespread communist sympathies. But Stabile's thesis is that they were agitators of a very different kind.
Vera Caspary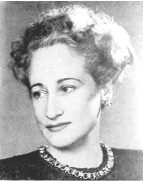 Vera Caspary was a Jewish American, known for her independent and opinionated spirit, possibly expressed best by her unwillingness to have her often avant-garde screenplays—which tended to feature smart, emancipated female protagonists—altered for Hollywood. "She was always getting into epic battles with producers," said Stabile.
Nonetheless, Caspary supported herself and her widowed mother throughout the 1930s and '40s on the strength of her writing alone, at a time when few women had careers. Prior to the blacklist she made a name for herself as an accomplished novelist and screenplay writer. Her most famous work was her novel and later screenplay for Laura (1944), now a film noir classic, sometimes referred to as the first psychothriller.
When Red Channels was released and Caspary found herself on the list, she had a legitimate reason to worry as she had been affiliated with the Communist Party in the 1930s. But even though decades had passed, she felt compelled to flee to Europe to escape interrogation that would have pressured her to turn in the names of her colleagues. Although she continued to write screenplays and novels, nothing she submitted for television was ever produced.
Shirley Graham DuBois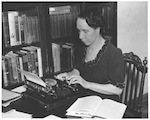 Shirley Graham DuBois was an activist writer. Born in 1896, she was an African-American novelist, producer, musician and intellectual who agitated for civil rights throughout her life. Merging both art and politics, DuBois was a prolific author who published many screenplays and books, including several juvenile biographies about the lives of famous African Americans, subject matter she believed should be more widely available in schools.
DuBois's professional posts included an appointment as field secretary for the
NAACP
in the early 1940s, during which time she set up field offices for the group throughout the country. In 1948, she gave the keynote address to a crowd of more than 10,000 people at the Progressive Party's 1948 convention for Henry Wallace, the party's candidate for president.
In 1951, she married writer and activist
W.E.B.
DuBois (a pioneering civil rights activist). Despite the couple's power and prestige, they could not escape the accusations that their progressive views were a threat to America and should be discredited. In 1961, they became permanent citizens of Ghana, where Shirley Dubois assisted with the creation of the nation's first television network.
At least one creative casualty of DuBois's status as a blacklistee was a project to document the life of Anne Newport Royall (1769–1854), sometimes called the first professional female journalist in the
U.S.
Dubois had applied for a Guggenheim grant for this project, but was never able to see it through. In addition, says Stabile, the blacklist guaranteed that none of DuBois's previous works would ever be adapted for television or the movies.
Along with Muir, Scott, Caspary and DuBois, Black and White and Red All Over also includes in-depth chapters on Gertrude Berg, Joan LaCour Scott, Ruth Gordon and Lena Horne.
Citing Shirley Graham Dubois's observation that many of these women have been "wiped out of history," Stabile says her motivation has been to "restore the accounts of a generation of politically active professional women to broadcast history."