She becomes only the eighth woman among 200 members of the National Academy chemistry division.
Conventional wisdom says that if you have side interests outside your scientific research—if you're not focused on the science 24/7—your work is less likely to be recognized by august institutions such as the National Academy of Sciences (NAS).
"If you do anything other than your science, it's perceived to be to your detriment," said
Geraldine Richmond
, who holds the UO's Richard M. and Patricia H. Noyes Professorship in chemistry.
But Richmond's own long list of accolades proves there are exceptions to this rule.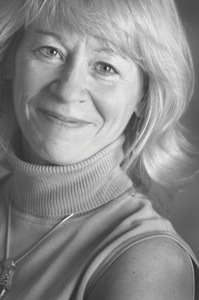 Richmond, who will be inducted in April into the NAS—the highest honor a scientist can receive in the U.S.—has side interests that are both demanding and highly visible. Most notably, she is the founding chairperson of COACh (Committee on the Advancement of Women Chemists), which is committed to increasing the scientific success and leadership capacity of women scientists and engineers.
With her National Academy of Sciences election, Richmond becomes only the eighth woman among 200 members in the NAS chemistry division and the first female among the UO's six NAS members—underscoring the gender disparities she endeavors to change.
Under Richmond's leadership over the past fifteen years, COACh has conducted professional trainings and programs for more than 6,000 female researchers, faculty members, graduate students and postdoctoral associates across the U.S. Over time, COACh has expanded to include physical scientists beyond chemistry and extended its geographic reach internationally, most recently to developing countries in Africa and Latin America.
Richmond is a hands-on leader for these international initiatives, traveling to China, Cameroon and South Korea in just the last year alone as a COACh ambassador.
"Geri is not only a top scientist, but also a scientist very concerned about the future of young scientists, particularly women," said Isiah M. Warner, professor of chemistry and vice chancellor for strategic initiatives at Louisiana State University. "I can't think of anyone who is better at balancing work and service. She can do it all."
Warner has known Richmond since they both were selected as National Science Foundation Presidential Young Investigators in 1983. This award was among the first in a long list of national and international honors Richmond has earned over her thirty-year career. Among the most notable, she has been named a fellow of the Society for Applied Spectroscopy, the American Physical Society and the American Academy of Arts and Sciences.
Last year was a banner year for Richmond in terms of recognition. Along with her NAS election, she was named a fellow of the American Chemical Society and also won the Joel Henry Hildebrand Award in Theoretical and Experimental Chemistry of Liquids, one of the highest honors bestowed by the ACS.
Warner calls her "one of the top five in the world" in her area of expertise: studying molecular structures and interactions at surfaces—such as those of water or glass—seeking to understand the most fundamental interactions underlying many environmental, chemical and biological processes.
Getting into the top five—and the National Academy of Sciences—requires an extraordinary time investment in scientific investigation. That means years upon years of dedicated research—which is why those time-consuming side interests are discouraged. So how has she done both?
Richmond acknowledges the essential role played by the graduate students and postdocs in her lab. "They do the heavy lifting," she said. But the research, of course, is hers and perhaps more fundamentally, her "side" interests are not really on the side at all, but a necessary part of the whole.
"I can't just do the science. I need the diversity," she said. "Science is not enough in a life."
-Lisa Raleigh