Fenton Hall looks nothing like its former self (on the inside at least).
No doubt you spent at least some small part of your academic career in Fenton Hall, home to the math department for the past thirty-five years. But Fenton hasn't always been the math building. Constructed in 1906, it originally housed the campus library and then the law school before the math department moved in at the start of the 1977–78 academic year. With each iteration, renovations took place that eventually resulted in compromised mechanical, electrical and especially structural systems.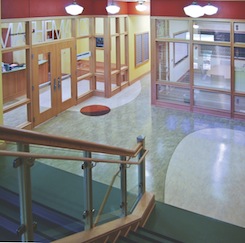 Thanks to financing from the state's deferred maintenance program—plus an additional $100,000 from 200 math graduates and David Moursund '58 and his late wife, Sharon Yoder—a two-year renovation was completed in July 2011. The result: a more energy-efficient, seismically safe, aesthetically pleasing and accessible Fenton Hall. The exterior of the building retains its historic look, but the interior brings Fenton into the twenty-first century.
—Lisa Raleigh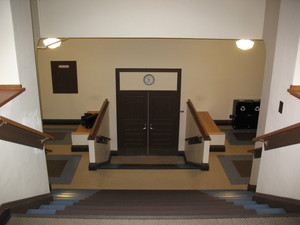 Remember this univiting landing inside Fenton's main entrance (left)? Behold its transformation (above).