Watch and listen to a slideshow of photos by children in Kenya.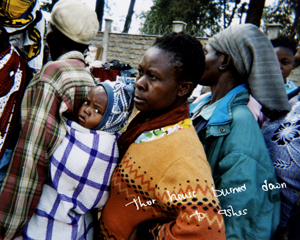 Junior Nick Blakey spent a month in one of the largest and most dangerous slums in Nairobi, Kenya teaching a group of ten children the basics of photography.

Using disposable cameras, his students, ages 10 to 16, have shown what life looks like from inside this shantytown called Mathare. Blakey returned to the United States last December to share their photos with the world. But shortly after, violence broke out in Mathare.


Listen to Blakey tell the rest of the story as he narrates a SLIDESHOW of the students' work.

For more information, read the full story.