Social Sciences
A Leader on Latin America
Lynn Stephen takes the helm of the Latin American Studies Association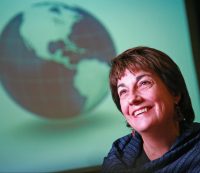 Anthropology professor Lynn Stephen is one of the world's top scholars on Latin America—and now she'll serve an official role to that end.
Stephen has been elected vice president of the Latin American Studies Association, the world's largest professional group for researchers.
She begins a one-year term in June. After that, she will serve as president for a year, mentoring the next generation of leaders among the organization's 12,000 members.
Stephen, who helped found the Center for Latino/a and Latin American Studies at the UO, studies the impacts of globalization, migration and the politics of culture on indigenous communities in the Americas.