Humanities
City Dwellers
Digging up a different take on Pompeii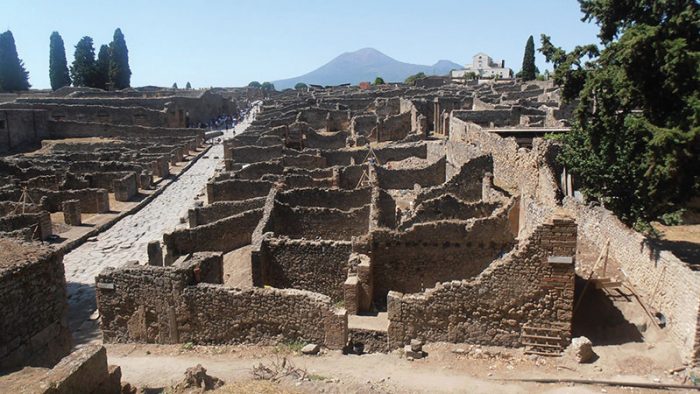 Pompeii, a Roman city near modern-day Naples, developed impressive facilities after its founding around the sixth century BC—among them, a water system, an amphitheater and public baths.
Then the volcano erupted.
In AD 79, Mount Vesuvius exploded with overwhelming force. Pompeii was completely destroyed and roughly 2,000 people were killed, buried under 20 feet of volcanic ash that rained from the skies for more than 24 hours. In a bizarre twist of nature, the debris that claimed the Italian city and some inhabitants also encased them in an air- and water-tight tomb, perfectly preserved for future generations to discover and study.
Kevin Dicus (below right) was a third-grader when he first learned the story of Pompeii. Simply put, he was blown away.
As he moved up the ranks in academia, Dicus remained fascinated by this ancient treasure. Now, as an assistant professor of classical archaeology at the UO, he's bringing a fresh approach to exploration of a site that has been meticulously inspected for more than 250 years.
Explorers and archaeologists have been poring over the buildings, artifacts and skeletons of Pompeii since the 1700s. But Dicus is taking a different tack—instead of studying single structures, he's examining an entire neighborhood.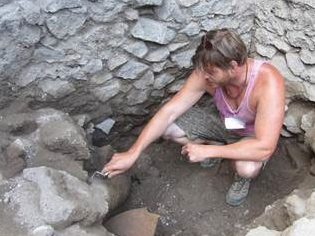 Since 2005, Dicus and a team of researchers with the University of Cincinnati and the American Academy in Rome have explored a large, working-class section of the city near Porta Stabia, one of the city gates. By avoiding presumptions about how specific structures should function, they've gained intriguing insights into individual buildings and the people who lived there.
For example, it might seem logical, upon coming across a structure in which inhabitants had lived, to call it a house. But that creates expectations that individual rooms must correspond to our modern definition of a house.
In fact, "the properties functioned in so many more ways than just houses," Dicus said. "People unquestionably lived in these structures permanently, but some were also inns with stables for horses and mules, others had front entrances converted into commercial shops and another looks to be a public restaurant."
The team has advanced understanding of the "nonelite" of Pompeii, a group that archaeologists have largely overlooked. They found, for example, that for this population there was little separation between living and livelihood.
"Where they slept at night," Dicus said, "was also where they worked and attempted to make a living."
Dicus is writing a four-volume excavation report to provide a narrative for the 40 trenches and the nearly 150,000 archaeological artifacts—most of them fragments of pottery—discovered by his team.
He is also drawing attention from the media. Dicus provided commentary for a 2016 documentary by the Smithsonian Channel, "Pompeii: The Dead Speak." He also recently completed filming for a documentary to be released this spring by a US network—stay tuned, he's barred from saying which until an announcement is made.
—Emily Halnon
Kevin Dicus is unearthing and exploring an entire neighborhood in Pompeii. Visit Online Extras to see a video of the project.