The Great Pretender
Spoofing an exotic flower of the Andes to solve an evolutionary puzzle
The Dracula orchid is so-named because its blood-red coloration and long, petal-like sepals suggested to some the famous vampire. But the flower is more con artist than menace.
Native to Central and South America, the orchid survives because it uses trickery to entice mushroom flies into landing on it, triggering pollination. But what draws the hungry flies?
Is it the flower's labellum, a central petal that visitors take for an appetizing mushroom but which is, alas, an imposter? Or the orchid's elaborate markings? Perhaps it's the cocktail of intoxicating fungal scents emanating from different parts of the flower?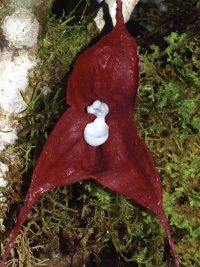 Scientists were at a loss. But they knew that answering this question would help unlock how flowers ensure their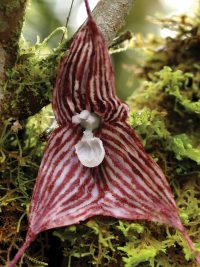 survival through mimicry.
To solve this evolutionary riddle, UO biologists Tobias Policha and Bitty Roy called upon the latest technology—a 3-D printer.
Working with visual artist Melinda Barnadas of California, the scientists created lifelike flowers of silicone, testing each of the orchid's features individually in an Ecuadorean forest. The answer: Sight and smell count equally—the flies find irresistible the orchid's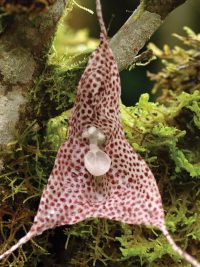 mushroom-like fragrance, and the spotted sepals advertise that it's a good place to stop for a bite.
The fabrication method used by the UO team is expected to open new doors across evolutionary ecology.
"It's a really important contribution," said Florian Schiestl, a botanist with the University of Zurich in Switzerland. "It's going to be an important technique for pollination ecology in general." —Matt Cooper
Photo credits: Tobias Policha (top); Bitty Roy (three model orchids); Aleah Davis (below)