Natural Sciences
The Highest Honor
Chemist Geri Richmond wins the National Medal of Science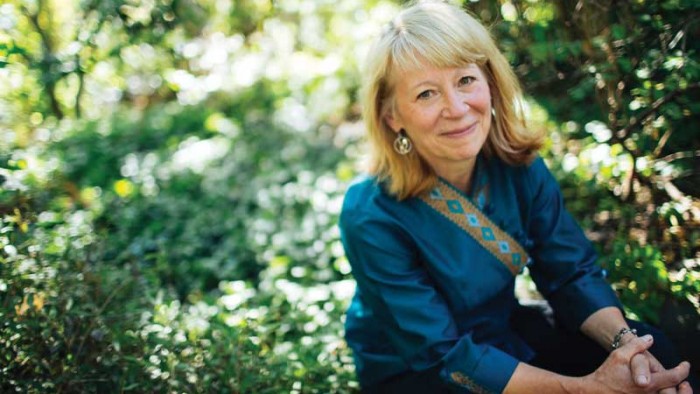 Geri Richmond has long used her prominence as one of the world's top chemists to advocate for women scientists everywhere. She—and they—just got a big lift in this effort.
Richmond has been awarded the National Medal of Science, the highest honor given by the US government to scientists, engineers, and inventors. The news from the White House reached Richmond as she was getting ready to depart from Washington, DC, late last year; Richmond was so humbled and elated, she said, "I almost couldn't board the plane."
President Obama called the work by Richmond and the other eight recipients "a testament to American ingenuity."
"Science and technology are fundamental to solving some of our nation's biggest challenges," the president said. "The knowledge produced by these Americans today will carry our country's legacy of innovation forward and continue to help countless others around the world."
Serving as the UO's Presidential Chair in Science since 2013, Richmond studies molecular structures and interactions at surfaces—such as those of water or glass—seeking to understand the most fundamental interactions underlying many environmental, chemical, and biological processes. Isiah Warner, a top chemist and vice president at Louisiana State University, calls her "one of the top five in the world" in her field.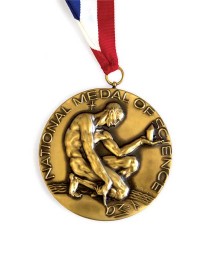 But science alone has never been enough for Richmond. She is the founding chairperson of the Committee on the Advancement of Women Chemists, which is committed to increasing scientific success and leadership among women scientists and engineers.
Under Richmond's guidance, the committee has conducted professional trainings and programs for more than 15,000 female researchers, faculty members, graduate students, and postdoctoral associates across the country. The committee has expanded to all areas of science and engineering, and has extended its geographic reach internationally, including developing countries in Africa, Asia, and Latin America.
Richmond said the award honors the graduate and postdoctoral students in her lab and also her "career-long passion" to be both a leader in research and in helping to strengthen the scientific enterprise in the United States and around the world.
Also, she added, "The recognition provides a strong message that women can be as successful as men in scientific research endeavors. Hopefully it will encourage other younger women to work toward similar success."
Other recipients of this year's award hail from Harvard Medical School, Princeton University, Stanford University, the Massachusetts Institute of Technology, Rensselaer Polytechnic Institute, University of Washington, and University of California at Berkeley.
Andrew Marcus, Interim Tykeson Dean of Arts and Sciences, praised Richmond's teaching, research, and public service as a shining example of all that the UO aspires to as a liberal arts institution.
"Her intelligence, drive, and vision have led to significant advances in our understanding of the feature that supports life on earth—water," Marcus said. "At the same time, she is training the next generation to make discoveries that go beyond what we can imagine. And her commitment to equity and fairness and her years of hard work have made a major difference to the engagement of young women in science here at UO, across the US, and around the world."
Richmond, who is completing her one-year term as president of the American Association for the Advancement of Science, also serves as a US science envoy in Southeast Asia. She is a member of the National Science Board and fellow of the American Academy of Arts and Sciences, and a member of the National Academy of Sciences. She joins UO psychologist Michael Posner, who won the National Medal of Science in 2008.
—Matt Cooper
Credit for Geri Richmond photo: Todd Cooper–Eugene Weekly