Natural Sciences
First Line of Defense
New cybersecurity center will host research that carries federal stamp of approval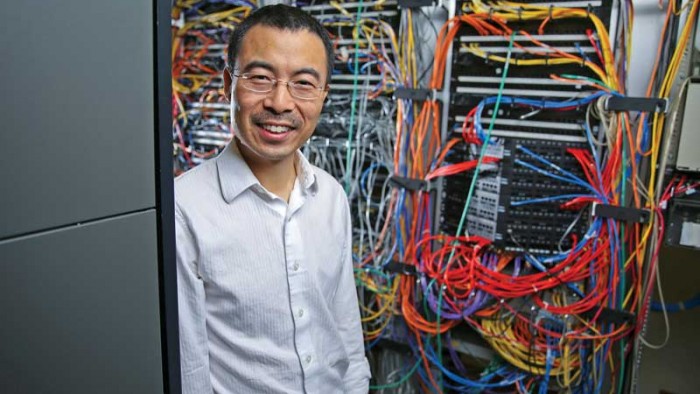 In computer circles, a cyberattack known as a "distributed denial of service" is the equivalent of a nuclear bomb.
During this assault, hackers take over computers—even millions of them—and use them to overwhelm one system with a blast of information, wiping out the victim's connection to the Internet. This attack can cripple most websites; in 2007 it was used to shut down connections to the entire country of Estonia.
The so-called DDoS has been a significant problem for more than a decade, and it's one that Jun Li (top) is committed to defeating. Li, a professor of computer and information science who specializes in Internet security issues, now has a national stamp of approval for this work.
Thanks to the efforts of Li and his colleagues, the university recently landed a federal designation as a National Center of Academic Excellence in Information Assurance/Cyberdefense.
Oregon is the only school in the state—and one of just 60 nationwide—carrying the designation, which validates the UO's advanced research in cyberdefense. The recognition will help the university draw additional research funding, faculty, and high-caliber students.
Li has also been working with colleagues to create a space where the university's best minds on Internet security can collaborate: the Center for Cybersecurity and Privacy, launched in 2015, brings together faculty from business, law, philosophy, and computer and information science to tackle the ever-changing world of online security and privacy issues.
As the director of the center, Li will continue to investigate DDoS attacks in work supported by the US Department of Homeland Security.
But the true strength of the center is its interdisciplinary nature. Members from across the university will concentrate on web privacy, hardware and program security, legal issues of life online, and "quantum cryptography"—that's the use of physics to cloak messages in a formidable shield of encryption.
Center members include:
The stakes are high because anyone who goes online for anything—an e-mail, a video call, a web search—is vulnerable to attack.
Simply put, Li said, "This is a problem that you have to address."
The computer and information science department is well-represented at the center, of course: Michel Kinsy, Boyana Norris, Zena Ariola, and Allen Malony are investigating computer hardware and software vulnerabilities.
Assistant Professor Daniel Lowd, another member of the CIS faculty at the center, is also studying an issue that—while unrelated to the center—addresses the Internet's susceptibility to abuse. He wants to develop a way to zap spam on social networks and fake reviews on websites.
Lowd won an Army Research Office Young Investigator Award, which provides $360,000 over three years for his project. He recognizes that the people behind spam and fake reviews are constantly changing their techniques, so he must create defenses that are just as agile.
Said Lowd: "I'm trying to develop methods that are general enough that you can apply them to detect both social network spam and fake reviews."
—Dylan Darling