Natural Sciences
"Mathletes" Transform Library Space into Study Haven
During a typical term, more than 600 students ask for help with their homework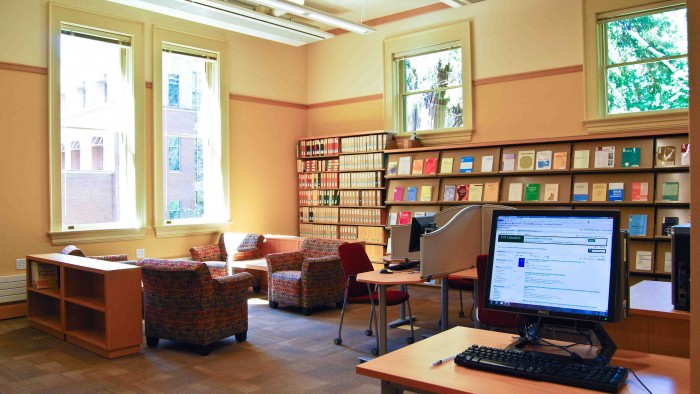 Sophomore Lyla Roemen was in the Fenton Hall mathematics library recently to get help with Calculus 251 homework. Every time she got stuck, she flipped over a wooden dowel that was standing on her desk; the dowel was taped on both ends—green representing, "I'm able to keep working on my own," and red, "Help!"
The math library (above) is one of few options available on campus for students seeking free homework help, Roemen said. She spends about twelve hours a week there. "These math classes have a ton of homework," she added. "The aides are really great. Sometimes it takes a while for them to get to you, but when they do, they all know what they're doing."
Perhaps no one better than a struggling math student could have predicted the meteoric popularity of the new math library, which was transformed during a two-year renovation and seismic retrofit of the hall, completed in 2011.
A library that historically saw ten students on a busy day now serves as many as 214, on average, wildly exceeding expectations.
"During a typical term, more than 600 students ask for help with their homework, which is about one in seven students enrolled in lower-division math classes," library manager Lara Nesselroad said. "They return, time and again. They bring their friends. They bring their dinner. They stay for hours, working through homework problems while our student staff members rove to explain concepts or spot errors with them."
As part of the upgrade, the Moursund Reading Room, which houses the library, was converted from a hard-to-find study spot to an open, airy and brightly lit space.
Working closely with the math department and UO Libraries, math librarian Annie Zeidman-Karpinski chose to use the renovated space to offer drop-in homework help provided by fifteen undergraduate math students—informally dubbed "the mathletes"— who are paid for their efforts. She shares the responsibility of hiring and training students with Nesselroad, who orchestrated a large reorganization of the stacks to make the space more user-friendly.
Hal Sadofsky, department head, said the library supports a critical objective of mathematics: learning to apply it.
A common misconception about math is that it's nothing more than memorization of facts and equations. The main point, Sadofsky said, is learning how to apply math to analyze and answer nonmathematical questions in science or real-world problems.
Homework teaches that skill efficiently because students learn quickest through practice—especially when instructors can provide immediate feedback and help.
"A huge amount of the extra effort involved in teaching mathematics is in providing this feedback and help. That includes our online homework system, discussion sections and office hours," Sadofsky said. "The library homework assistance is another big weapon that students have at their disposal to win the battle of learning how to use the mathematics we are teaching to them."
The mathletes, meanwhile, say there's more to the service than a paycheck; they've developed into an intellectual community that uses the new room as a home base. The aides hang out or hold office hours in the library because they know their peers will be there, too, chipping away at the same challenging problems of more advanced mathematics classes.
"It became the center of our experience at the UO," said aide Gen Schaack, who graduated recently. "When I showed up to campus early, that's where I went. If you wanted to find somebody to go get lunch, you'd go there—'Did you do this homework? I got stuck on this problem.' You want to feel like you're part of a community and the work you're doing is appreciated and important. My last years with the math department made me feel like I got the college experience."
— Matt Cooper