Steve Gregory is looking for a few good nerds.
For the associate professor of physics, there is no higher distinction. Gregory's the first to admit that he's a nerd himself—a "lab rat," a guy who spends an absurd amount of time in a special laboratory deep in the bowels of the physics building. There, Gregory and his buddies rip apart and reconfigure any number of high-end scientific gadgets, the functions of which would inspire only head-scratching among normal people.
Atomic force microscopes. Spatial light modulators. Erbium-doped fiber amplifiers with continuous wave lasers.
But Gregory and colleague Bryan Boggs didn't pull together this panoply of precision devices for their own amusement (although that's a nice byproduct). The idea is to recruit that certain subset of undergraduates—the ones who aren't necessarily A-plus speakers but know how to use their hands, the ones who get a charge out of superconductivity projects, the ones for whom the concept of "surface plasmon resonance" resonates, the ones who are, well, for lack of a better word, . . .
"We're trying to attract nerds," Gregory said simply. "We need people like ourselves. You bring a nerd down here and they start quivering. That's one way you can spot one."
This is the Advanced Projects Lab, where undergraduates use research-grade equipment as they explore the frontiers of modern physics. It's a proving ground for students wondering if they've got the right stuff to do research.
At many large universities, million-dollar scientific instruments are the domain only of graduate students and professors. But Gregory and Boggs— recognizing the importance of inspiring tomorrow's researchers—went the extra mile to make such equipment available to undergraduates at the UO.
On a recent day at the lab, Mexican exchange students Adriana Vallejo and Mario Martinez worked with a superconducting quantum interference device, or SQUID. Senior Nick Anthony tinkered with a spatial light modulator as he experimented with "optical vortices," a field of study on the leading edge in research laboratories today.
Physics majors Trevor Jones and Matt Ruby, meanwhile, used a function generator and resonance oscilloscope to study sonoluminescence—the use of sound waves to generate light. Although stumped by the challenge of collecting and measuring the light emitted, both felt the work will help them stand out when they apply to graduate schools.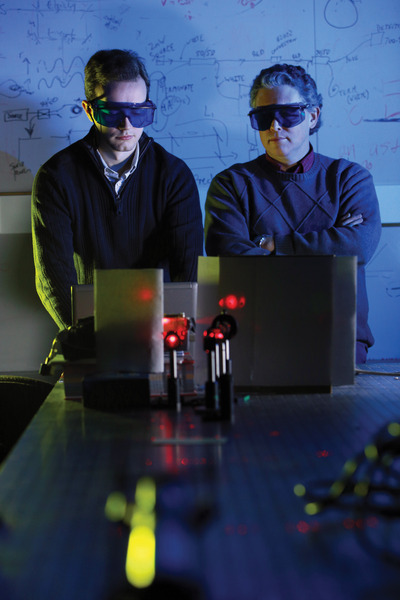 "The end result is not as important as the path getting there," Ruby said. "Problem-solving skills are the most versatile skills there are."
Gregory and Boggs started the lab to give undergraduates a true research experience, one that can't be taught from a textbook. They got administrative support—and equipment—from then-department head Steve Kevan; physics senior instructor Dean Livelybrooks helped get the program off the ground and Boggs continues as supervisor. Startup funding came from Intel and the Tom and Carol Williams Fund, which supports innovation at the UO.
The laboratory runs year-round, usually for two or four credits. Students typically join in their third or fourth year, pick a project of interest and try to advance on what has already been accomplished.
"Students come in on their own schedule," Boggs said. "Most of the projects are like those in a graduate research lab. There's a lot of problem-solving."
Under the eye of lab supervisor Bryan Boggs (right), students such as Jacob Magers work with spatial light modulators and other research-grade equipment.
The laboratory gives professors the ability to write letters of recommendation based on how students perform. The goal is to train young scientists to work independently and think their way through obstacles in an experiment— strengths sought by graduate schools and employers alike.
Ken Gross '11, an optical engineer with Vancouver, Washington-based nLIGHT Photonics, a maker of semiconductor lasers, said the lab gave him the tools to design the high-power lasers that nLIGHT customers need to process materials.
"Being able to implement something that 'looks cool' into actual, repeatable, working science is amazing—and the projects lab is perfect for that," Gross said. "It gave me the direction of thinking required to keep finding new ways to tackle a difficult application."
Said Gregory: "It's important for students to find out how research operates. There will be times where they'll get stuck. That's what happens in the real world—you get stuck for a few weeks, you get angry and you deal with it."
—Matt Cooper
— photo: Michael McDermott