Humanities
Art Meets Science and Goes to the Movies
UO sophomore pursues a unique vision, combining cinema studies and physics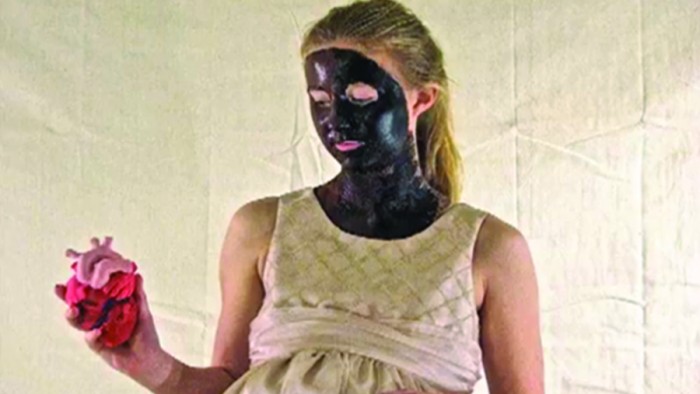 Sophomore Jordyn Roach says she is inspired by Intel Corporation's holographic whale.
The computer-generated, life-size whale made its debut at the 2014 Consumer Electronics Show in Las Vegas—a 3-D projection of an undulating behemoth that "flew" over the assembled audience.
This is an example, says Roach, of how she might someday use the skills she acquires in her unusual double major: cinema studies and physics.
The cinematic field of computer-generated imagery (CGI), for instance, is a natural career path for someone inclined to both artistic expression and scientific discovery. After all, "cinema is story plus image," said Roach. In physics, she is particularly interested in optics, a subfield with special relevance to film.
Roach is both an award-winning filmmaker and a talented physics student. She is one of only two young women in her upper-division physics class, but she is also quick to point out that filmmaking is another field where women are underrepresented, especially in leadership roles. Only one female film director, for instance, has received Oscar recognition for best director.
"These are both fields with a strong lack of women," she said.
For her creative work, Roach has been honored two years in a row at the Girls Impact the World (GITW) Film Festival, sponsored by the Harvard College Social Innovation Collaborative and a nonprofit called Connecther. The festival invites high school and college students to submit three- to five-minute films that focus on global women's issues.
In 2013, Roach won two GITW awards for her stop-action film "This Is a Girl," which featured both her Claymation talents and the acting debut of two of her siblings (that's her sister Skylar, above). The film, which creatively depicts the many obstacles women around the world face in overcoming poverty and discrimination, won third place overall and the Cisco Most Innovative Film Award, each of which earned her $1,000 scholarships.
Earlier this year, her short animated film "Broken Beauty," which she describes as depicting "the media's singular projection of beauty [as] an unreachable mirage," won the Brave New Beauty Award at the 2014 festival, and this included a $2,500 scholarship.
Roach first became aware of the GITW festival while searching online for scholarship opportunities—but when she discovered GITW, it was just two weeks until the deadline for the 2013 event. She researched and produced "This Is a Girl" in a matter of days—a feat even more remarkable because she had never taken a course that provided her with the background and data for making a case for women's education and self-determination. Instead, she assembled the facts on her own.
This fall, she will study animation in Prague and hopes later to have an internship in Tanzania to teach film skills, particularly to women whose stories might otherwise go untold. Her goal: "To give a voice to people who don't have a voice."
— Lisa Raleigh
Caption: An image from "This Is a Girl," a stop-action film by sophomore Jordyn Roach.