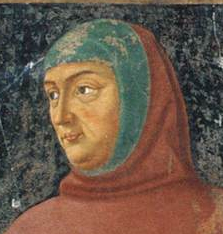 Petrarch is not only going digital at the UO, but musical as well.

Watch a video of University of Oregon music students performing Marenzio's musical reading of Petrarch's Solo e pensoso (text in Italian and English below).

Read the Cascade story about the digital Petrarch project.

Francis Petrarch, Sonnet 35 from the Canzoniere

Solo et pensoso i piú deserti campi
vo mesurando a passi tardi et lenti,
et gli occhi porto per fuggire intenti
ove vestigio human l'arena stampi.

Altro schermo non trovo che mi scampi
dal manifesto accorger de le genti,
perché negli atti d'alegrezza spenti
di fuor si legge com'io dentro avampi:

sí ch'io mi credo omai che monti et piagge
et fiumi et selve sappian di che tempre
sia la mia vita, ch'è celata altrui.

Ma pur sí aspre vie né sí selvagge
cercar non so ch'Amor non venga sempre
ragionando con meco, et io co llui.

Francis Petrarch, Sonnet 35 from the Canzoniere new translation by Robert Durling

Alone and filled with care, I go measuring
the most deserted fields with late, slow steps,
and I keep my eyes intent to flee
where human footprints may mark the ground.

No other shield do I find to protect me
from people's open knowing,
for in my bearing, where all gladness is spent,
from without can be read how within I am aflame,

so that I am sure by now that mountains and slopes
and rivers and forests know of what temper
my life is, which is hidden from others.

But still I cannot seek out paths
so harsh and so savage that Love does not always come
discoursing with me, and I with him.