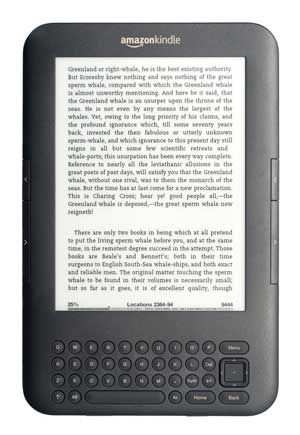 Two UO researchers seek to harness the power and portability of e-reading technology such as the iPad and Kindle to help college students who have difficulties with reading comprehension. The project could ease students' academic anxieties as well as their (literally) heavy textbook loads.
Stephen Fickas, professor of computer and information science, and McKay Sohlberg, professor of communication disorders and sciences, will collaborate with two Department of Defense facilities to develop a process that matches reading impairments to effective reading strategies that can be delivered on electronic tablets.

The growing popularity of these devices makes them a useful platform for the delivery of individualized reading support to struggling students.
Fickas and Sohlberg started this project—called the CampusReader project—in fall 2009, and recently received a five-year, $2.7 million grant from the National Science Foundation to continue the work. With this project, the researchers hope to fill the gaps in the scientific literature that links reading impairments with reading strategies.

"Ideally, as students sit down with their computers to begin their online reading assignment, the CampusReader software will work in the background to extend the textbook content with strategies that fit with each student's reading profile," said Fickas.

Read about another Steven Fickas project: a new smart-phone app class.
The CampusReader software will be designed to facilitate reading tasks for a wide range of college students, including veterans with mild brain injuries and adults with learning disabilities and attention deficit disorder.

"Reading comprehension deficits are a huge problem for many students leaving high school who have both identified and unidentified impairments," said Sohlberg, who recently was awarded the College of Education's five-year HEDCO endowed professorship.

"Our targeted students are those who have cognitive impairments that make it difficult for them to sort relevant from irrelevant information, draw inferences or connect background knowledge to new learning situations," said Sohlberg.

As reading-tablet technology improves, and the publishing industry increasingly embraces e-books, the researchers see an opportunity to integrate reading strategies with electronic textbooks.

Fickas and Sohlberg will conduct pilot studies, laboratory experiments and longterm evaluations to develop an educational package that uses open-source software and hardware.

One of their goals is recognition and acceptance of the CampusReader through the Computer-Electronic Accommodations Program (CAP), which provides assistive technology, devices and services free of charge to partnering federal agencies that work with returning soldiers. The research will help active-duty service members and veterans with mild brain traumas who wish to enroll in specialized training programs or resume their education on university or community campuses.

If Fickas and Sohlberg's efforts succeed, reading difficulties—as well as backpack-induced lumbar lordosis—could be greatly reduced on college campuses nationwide.
— Eric Tucker