Video Variety
Students made professional presentations at this year's UG Research Symposium. Watch a selection of them here.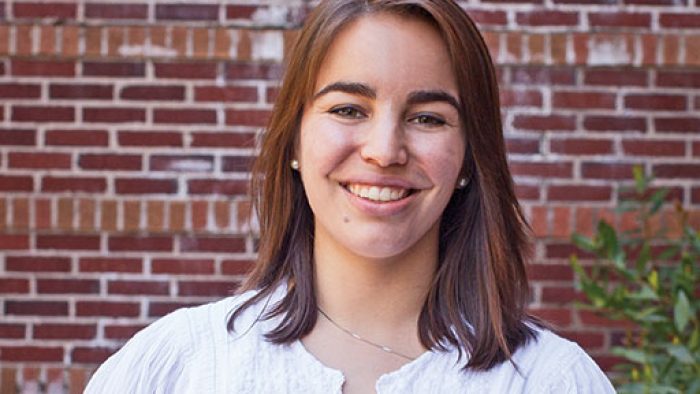 Research has long been part of the University of Oregon's DNA, and it takes center stage every year during the Undergraduate Research Symposium. During the annual symposium, undergraduates from dozens of majors get to show off their hard work in a day of oral and poster presentations, creative work installations, and artistic performances in the Erb Memorial Union. Awards totaling $2,900 are distributed to the top efforts in six categories.
Debuting in 2011 with 69 presenters, the 2017 symposium featured 292 undergraduates and 177 faculty mentors spanning 60 majors and eight colleges. Among the highlights from this year's symposium included:
Linguistics and Listening
Drew McLaughlin (Linguistics, '17) wanted to understand how our brains work when we try to listen to someone in less-than-ideal circumstances, such as when there is background noise or the person has a thick accent (see the Cascade article, "Communication Conundrum"). She discovered that we develop work-arounds to better grasp what's being said.
You can watch Drew's presentation on how our brains go about that at the Undergraduate Research Symposium here.
Sacred Remains
Angela Rothman (History, Political Science), pictured above, notes that California lawmakers had good intentions when they enacted the California Native American Graves Protection and Repatriation Act in 2001 (see the Cascade article "Political Drama"). The legislation required state-funded institutions and agencies to repatriate Native American human remains and other items to non-federally recognized California native peoples.
However, Rothman explains in her symposium presentation that a lack of clarity among some of the issues has led to confusion in how to carry out the act.
The Politics of Exclusion
Bryce Sprauer's (international studies, Spanish) research illustrates the discrepancies in U.S. immigration policies driven by political reasons, starting with the fact that Cubans are the only nationality in the world granted automatic refugee status upon arriving in the U.S. while fewer than 2 percent of Central American citizens are granted asylum here.
Listen as Sprauer explains in her symposium presentation how U.S. economic and immigration policies toward Cuba impact and shape regional politics and how they affect migrants from Central America.
City of the Beautiful
In terms of fashion and beauty, Beirut is a trendsetting city of the Middle East, and the long lines of women waiting outside beauty salons every weekend are proof. Eugenia Lollini (Romance languages) offers a presentation examining the reasons behind this phenomenon by looking at social pressures from family members and close friends, as well as different classes of women who use beauty as a medium of social distinction.