Humanities
Thank You for Smoking
Traveling to Germany to research cross-cultural attitudes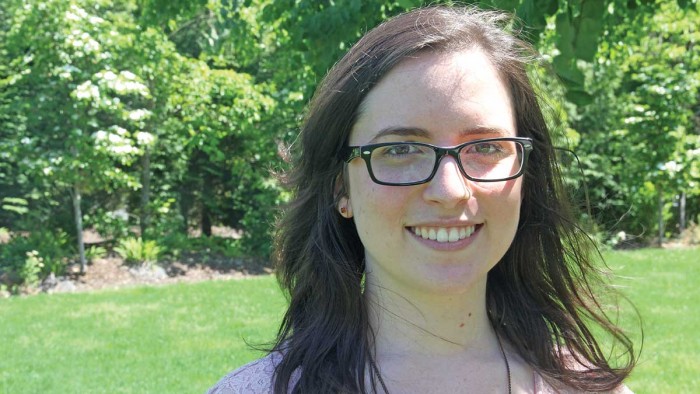 In the United States, smokers are expected to move away from the rest of us. But in Germany, the opposite can be true: If you're not smoking, you move away from the smokers.
Jessica Montgomery (above) gleaned this anecdote during a trip to Tübingen, a university town in southern Germany. The recent UO graduate was able to turn her twin loves of psychology and the German language into research on a question that just about everyone has an opinion about: Is smoking immoral?
(Montgomery isn't the only Duck to "double down" with two majors, and it can lead to some fascinating mash-ups …)
Montgomery has had a passion for research since setting foot on the UO campus as a freshman.
She was dazzled by a FIG—a freshman interest group, which bridges two subjects—in German studies and psychology, where students explored the power of authority figures. This was perfect for Montgomery, who has Polish Jewish heritage and is fascinated by World War II. When psychology professor Sara Hodges, one of the FIG's instructors, offered Montgomery a job as a research assistant, she jumped.
"The fact that I was invited, as a freshman, to sit in on lab meetings and bring up my ideas for how to frame a study was just insanely cool," Montgomery said. "Once I was exposed to the lab, I thought, 'OK, I found what I want to do with the rest of my life.'"
Committed to taking on her own project, Montgomery joined the honors programs in the psychology and German and Scandinavian departments, both of which require completion of a thesis for the honors distinction at graduation. She was connected to a project in the psychology department under doctoral candidate Brian Clark, exploring how Germans and Americans feel about smoking. To satisfy requirements for the German program, she wrote a second thesis on each country's recent history with smoking as it relates to public policy and cultural attitudes.
To research her thesis in psychology, Montgomery spent thirteen months abroad—a

trip funded by a stipend from the German government—during which she surveyed roughly 150 people, asking them—in German—to rate statements such as "smoking reflects poorly on the person's moral character."
"I stopped people on the street and said, 'Hey, are you willing to answer a question for my thesis?'" Montgomery said. "Almost nobody turned me down. I gave people a piece of German chocolate upon completion."
Once stateside again, Montgomery ran the same survey on campus. She found that American nonsmokers were more likely to condemn smokers and smoking than their German counterparts—fitting, given Americans are generally tougher on smoking. Another find: American smokers seem to share in nonsmokers' general disapproval of smoking.
"Smokers are saying their own behavior is immoral," Montgomery said.
Susan Anderson, a professor in German and Scandinavian, co-led the FIG that Montgomery found so energizing as a freshman. She recalled Montgomery as confident and engaging even then, the first to pop up with an answer and launch a classroom discussion.
Anderson helped Montgomery sharpen the focus of her German thesis, directing her to a number of supporting texts. But Montgomery needed no prodding whatsoever in regularly turning in drafts for editing.
"I've had a number of students who have started a thesis and just can't finish—it's just too much," Anderson said. "But Jessica has this great sense of humor; she's able to laugh when there is all of this pressure coming down on her."
Intent on graduate school, Montgomery already has designs on a project that will again unite psychology and German: how Germans have been perceived since World War II. The research experience solidified her passion for psychology and provided insight into what to look for in a master's program.
"I feel like I have a head start for graduate studies," Montgomery said. "Now that I've conducted research, I know what programs will be a better fit for me."
—Matt Cooper
Photo of Montgomery: Matt Cooper