Humanities
Looming Disaster
Philosophy, morality and industrial farming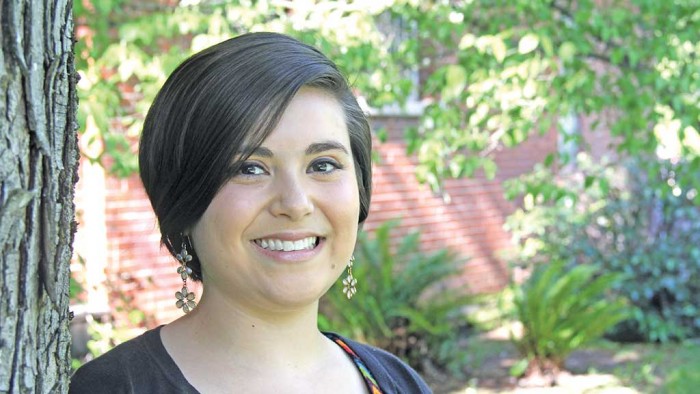 Shahnaz Mooney has always had a thing for disasters.
When she was a kid, she was fascinated by epidemics. She used to have vivid nightmares about trying to survive a deadly plague. Now that she's older, concerns about climate change are driving her to action.
Small wonder, then, that when Mooney (above) enrolled at the University of Oregon as a sophomore three years ago, she sought out the UO's own "philosopher of disaster": Naomi Zack, who specializes in disaster ethics. It was the beginning of a beautiful relationship.
Under Zack's guidance, Mooney embarked on a sprawling project that earned her a degree from the Robert D. Clark Honors College, majoring in both philosophy and environmental studies.
(Mooney is hardly alone in double-majoring at the UO, and "doubling down" can lead to some interesting mash-ups.)
Mooney was also honored at graduation for winning the college's interdisciplinary thesis award.
In her sixty-page thesis, Mooney explores the ethics of feeding antibiotics to animals in industrial farming. Her analysis incorporates philosophy, public policy, science and environmental studies.
Mooney predicts a looming disaster in this practice, noting that "80 percent of (US) meat randomly tested . . . shows traces of antibiotic-resistant bacteria" such as salmonella and E. coli. Despite safe handling practices and cooking techniques, the meat-consuming public remains at risk for dangerous bacterial infections, she writes.
In addition to this public-health concern, she also explores the morality and practicality of antibiotic use in animal feeding and ends with suggestions—domestic and global—for preventing an epidemic.
Completing a thesis is typically a yearlong undertaking and for many students, it would be challenge enough working within one area of study. But Mooney deftly pulled together a project that cuts across multiple disciplines, Zack said.
Mooney's work "combines excellent information about a contemporary problem with analysis of the relevant philosophical and moral systems," Zack said. "It was very enjoyable working with her. She takes suggestions, she's willing to make revisions and she has good critical insights."
The leap of faith with research, Mooney said, is to accept where it leads you; as her investigation shifted in unexpected directions, she reminded herself to remain open to the process. "Being OK with laughing at yourself at times is really important—'OK, I'm still an undergrad,'" Mooney said. "That pressure to finish the project can be stifling and doesn't allow for creativity."
It's a badge of honor for Mooney that her entire education has been in public schools. The knock on public institutions, she said, is that students don't get enough attention; she was surprised by the support she's received at the UO, from graduate students as well as established professors such as Zack.
"I've never felt like a number, even in classes with 150 or 200 students," Mooney said. "It seems like everyone is very interested in student success."
It's also no accident that her final academic effort as an undergraduate cut across so many disciplines.
Mooney is multidimensional herself—her dream job would mix philosophy, environmental studies and art. Accordingly, among her favorite classes at the UO was a course in environmental aesthetics taught by philosophy professor Ted Toadvine and Carla Bengtson, an associate professor in art.
These types of classes force students to think creatively about the issues, Mooney said. Call it training for solving those worrisome problems that kept her awake at night as a child.
"If we're going to solve these big issues," Mooney said, "we need to attack them from different sides."
—Matt Cooper
Photo: Matt Cooper