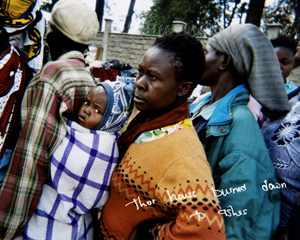 A child in Kenya looked upon this scene of people standing in line to receive aid, lifted a disposable camera to his eye and clicked.
His assignment was to show the world what life is like in the slum where he lives. To explain the importance of the image, he wrote a caption: "Their house burned down to ashes."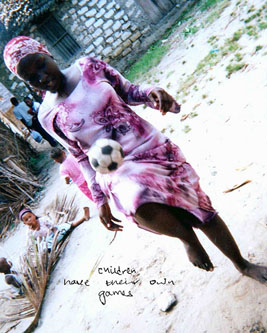 Nick Blakey, a junior from Bainbridge Island, Wash., gave this assignment to ten students, ages 10 to 16, who were living in Mathare, one of the largest and most dangerous slums in the capitol city of Nairobi. As part of a study abroad program last year, Blakey, an international studies major, lived in this shantytown for a month and taught the children, some of whom had never held a camera, the basics of photography.

After developing the film, Blakey could see that much could be learned about how these children viewed their lives. Some pictures showed the aspects of life that made them happy: family, playing soccer, studying. Others captured their fears: bullet holes, children with scars and people carrying water (a scarce commodity).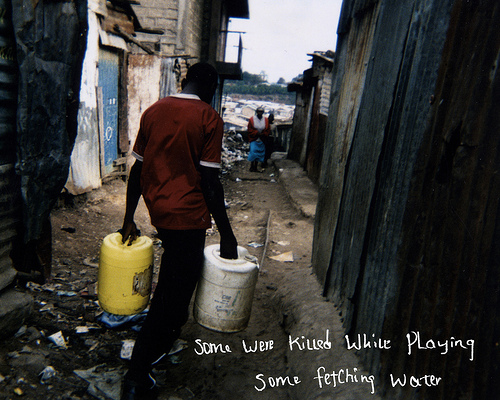 Blakey asked the kids to write captions and promised he would share their pictures with the world.

After Blakey left the East African nation in December 2007, violence erupted after elections, leaving more than 1,000 people dead and 300,000 displaced by the violence. Mathare was hit especially hard. Blakey has been able to reach only three of his students since then. Because their families don't have enough money to send them to school, Blakey raised money by selling salmon in Seattle this summer to pay their $400-per-year tuition bills.

This September Blakey is returning to Mathare with more cameras. Listen to Blakey tell the rest of the story as he narrates a SLIDESHOW of the students' work.
- Katie Campbell