Natural Sciences
Kid Stuff
Books to inspire a love of science in kids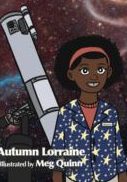 Autumn Bradley was just 4 when she started studying bugs and tuning in to Bill Nye the Science Guy.
Now a UO chemistry lab preparator, Bradley is passing that science passion on to today's young explorers. She's writing books that inspire grade-schoolers to consider careers in science.
Astrophysicist Akimie, the first in the series and available at http://www.thesciencestarters.org/ employs rhymes to spark an exploration of the universe and the formation of galaxies. The book includes a typical day in the life of an astrophysicist.
"I want kids to have more answers to the question, 'What will you be when you grow up?'" Bradley said.
Next up: Astrobiologist Aurora, due out this spring.