Humanities
Disabling the Stereotypes
New program debunks stigmas associated with people with disabilities
If you go to Reality Kitchen and purchase a scone or one of its other pastries, chances are Jesse Egli is behind the tasty goodness you are about to enjoy.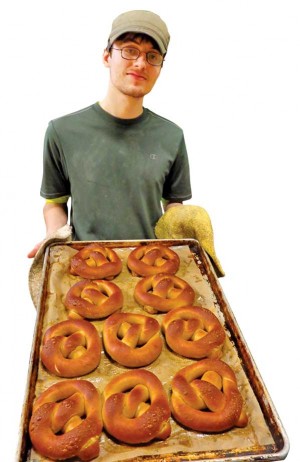 Egli (left) is a pastry chef at the full-service bakery and deli in Eugene, which employs people with developmental and intellectual disabilities.
He formerly worked another cooking job but found the pace too fast. A vocational rehabilitation agency referred Egli to Reality Kitchen more than a year ago, and it's been a perfect fit.
This spring, students from the University of Oregon will work with the employees at Reality Kitchen, documenting their stories.
Egli and his peers will describe the challenges they've overcome, the confidence they've gained through holding a job, what it's like to live with a disability, and how they navigate in the working world. The class, which is funded by the Tom and Carol Williams Fund for Undergraduate Education, culminates with a student theater presentation on the experience.
The Life Stories: Wider Worlds seminar is part of a trailblazing new project, the Disability Studies Initiative. The program attacks the stigma associated with people with disabilities and helps students explore an issue that is complex and often misunderstood. The initiative also educates students about disability-related careers in design, medicine, human services, and other professions.
The initiative features courses from across the university that address disabilities: literature, architecture, product design, political science, music, health policy, and others. Perhaps as soon as this fall, students will be able to work toward a minor or graduate specialization certificate through the initiative.
The class is also open to students and representatives from other community agencies and programs, including Lane Education Service District and the Oregon Supported Living Program. The initiative also addresses physical disabilities and requires a minimum of 90 hours—and the option to accrue as many as 330 hours—of fieldwork with people with disabilities.
"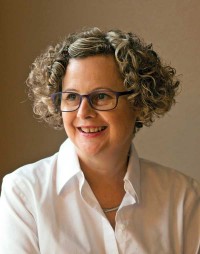 Our program covers a much wider range of academic disciplines than any of the other programs (in the country)," said English professor Elizabeth Wheeler (right), who leads the initiative. "We're aiming to be very outward-facing toward the community."
Wheeler has been instrumental in this effort. In her research, she studies how children and young adults with disabilities are portrayed in literature and the media, ranging from toddler's picture books to graphic novels and poetry slams. As someone with a neurological condition, she relates deeply with the subject.
Wheeler is also in the process of writing HandiLand: The Crippest Place on Earth, a book on how literary depictions of youth with disabilities have evolved in recent decades, and how these characters are now taking leading roles in the narratives. She wants greater awareness of people with disabilities as a discrete community that deserves a more inclusive place in society.
"A disability isn't something that happens to a few marginalized people," Wheeler said. "This is their cultural heritage, their community. They have a voice and pride of place in the university."
—Jim Murez