Social Sciences
Made In Bangladesh
Garment industry best bet for women's financial independence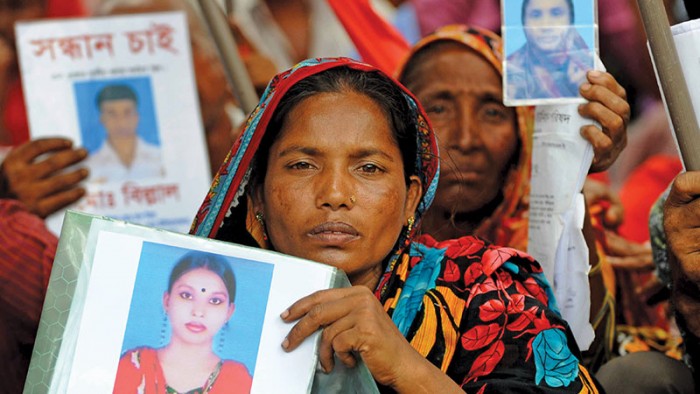 The collapse of an eight-story factory in 2013 became a flashpoint for worker's rights. Women took to the streets to mourn missing family members and 50,000 workers marched to protest low wages.
The scene was a garment-making factory in Bangladesh. Some 1,400 workers—most of them women and all of them grossly underpaid—were denied wages and a holiday bonus by the owner.
A woman named Yesmin, a trade union leader, intervened. She telephoned the owner repeatedly, seeking the compensation. When the calls went unreturned, Yesmin sent one last message: If you don't bring the money, she warned, I'm going to start selling the factory machinery to pay these wages.
"And the owner calls right back and says, 'Don't sell, I'm coming, I'm coming!'" Lamia Karim said, chuckling. "He shows up in an SUV with bags of money."
Karim, associate professor of anthropology, is a scholar of women and social change in her native Bangladesh. The South Asian country of 160 million is considered by Western governments to be a model for developing nations because of its reliance on two industries with the potential to empower women: microfinance and the ready-made garment manufacturing industry.
But Karim has found one approach has decidedly more potential to help women than the other. And her conclusion might be surprising.
Microfinance—the practice of loaning a small amount of money to individuals to seed entrepreneurial endeavors—has been touted as a panacea for global poverty and a way to empower women. The United Nations declared 2005 as the year of microfinance and a year later awarded the Nobel Peace Prize to economist Muhammad Yunus, one of the first to experiment with the practice.
But Karim is an outspoken critic of the practice (see Cascade fall 2011). She's found that although the loans are made to women, their husbands almost always control the funds—although it's the woman who is targeted by the banks if repayments falter. Her research also shows that rather than starting new businesses, women who did control these loans often simply lent the money to others.
The country's $20 billion garment-manufacturing industry, however, can empower women because the wages paid—although meager—are still more effective for giving women economic independence than funding entrepreneurship that may or may not be realized. Factory work also creates an environment where workers—overwhelmingly women—can organize collectively for change, Karim said.
Karim's new book, Constructing Modernities: Women and Social Change in Bangladesh, explores the global garment industry and its impact on this Muslim-majority society.
While she is a strong proponent for the industry, Karim stressed that there must be more regulation of factories notorious for abominable conditions. The flashpoint in this struggle was the 2013 collapse of an eight-story factory near the country's capital, which killed more than 1,100 people. After the disaster, more than 50,000 workers took to the streets to protest low wages.
"I want people to support this industry and reform it," said Karim. Noting that retailers such as Gap, Walmart, J. C. Penney and H&M rely on Bangladeshi manufacturing, she encouraged shoppers to hold these companies accountable.
Her travels to Bangladesh have also exposed Karim to inspiring stories such as Yesmin's.
A worker in the industry since she was 12 years old, Yesmin later became a vocal advocate for improving conditions, and as a result she lost her job in the early 1990s. Yesmin joined the labor movement and became a trade union leader—she's also a poet—and she's been locking horns with the industry establishment ever since.
This is no small act of courage in Bangladesh, where sexism and gender inequality can expose women to considerable risk.
"These women are crafting new lives, they have hopes and dreams and they want their children to become lawyers, nurses," Karim said. "Yesmin said to me, 'If I don't fight, we'll just perish.'"
—Matt Cooper
Photo of factory workers: New Age, Bangladesh