Computing For The Rest Of Us
Creating networks "for folks who aren't geeks"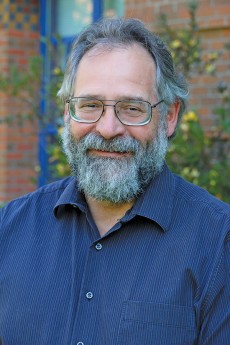 The Internet was still a research project when Joe Sventek (pictured) realized that moving electrons through circuit boards might be more interesting than splitting atoms.
Although the revelation came halfway through a doctoral program in nuclear physics, Sventek decided to reboot his academic plan and embrace what was then the new field of computer science. He never looked back.
Now, after more than 30 years of investigating how to make computer networks faster and smarter, Sventek is the new head of the Department of Computer and Information Science at the University of Oregon. He moved into his new office in Deschutes Hall recently and believe it or not, he's looking forward to a Northwest winter.
Sventek spent the last 12 years at the University of Glasgow in Scotland, finishing with four years as head of the School of Computing Science. He said he loved his time in the United Kingdom, which also included stints in the private sector in Cambridge, England, and Edinburgh, Scotland.
But it wasn't because there was a lot of sunshine.
"The people are just so friendly," Sventek said of living in the UK. "But you don't go there for the weather."
Sventek comes to a department that is poised to make a major leap by adding several new faculty members to the existing 15 and becoming one of the top computer and information science programs in the country.
"This is a great opportunity," he said. "We're going to grow this department. We're going to grow in stature."
Sventek started his research career at Lawrence Berkeley National Laboratory, then went to work for Hewlett-Packard and later a spinoff, Agilent Technologies, which took him to the United Kingdom to establish the company's overseas operations. In 2002, he returned to academia when he became a professor at the University of Glasgow.
He is an elected fellow of the Royal Society of Edinburgh, the Institution of Engineering and Technology and the British Computer Society; he is also a senior member of the Institute of Electrical and Electronics Engineers.
Sventek's research has focused on several areas of computer networks. It's a wildly complex world, but Sventek said it has a relatively simple theme.
"I try to take things that we've made and that work but are hard to use and make them easy to use for folks who aren't geeks," he said.
For example, he said the UO's work in volcanology, particularly earthquake detection, could benefit from making sensors that require simpler programming and can connect more easily to networks. That could allow seismometers to be set up and monitored by nonscientists, freeing primary researchers to focus on studying and interpreting the sensor data.
Sventek's return to the states was somewhat serendipitous. He and his wife, Virginia, had been thinking about moving back and had pretty much settled on Eugene as the place they wanted to be, calling it the closest thing to Virginia's native San Francisco without the high cost of living.
He'd applied for the department head job two years ago, but couldn't leave then because of commitments in Scotland. But the post was still open when those commitments ended and things just fell into place.
"The planets were pretty much aligned this time," Sventek said.
Sventek also has some personal reasons for wanting to be back on the West Coast. The couple's grandchildren are in Southern California, and the move puts them in the same time zone and a relatively easy plane ride away.
The move wasn't without sacrifice, though. Due to customs issues, Sventek had to leave behind 20 bottles of rare single-malt Scotch he's collected over the years. He sold unopened bottles to colleagues at a "steep discount" and gave them the open ones.
"My (former) school is a much happier place now," he said.
―Greg Bolt