Humanities
Religion And Politics Do Mix
Recent alum tackles issues of the day on Capitol Hill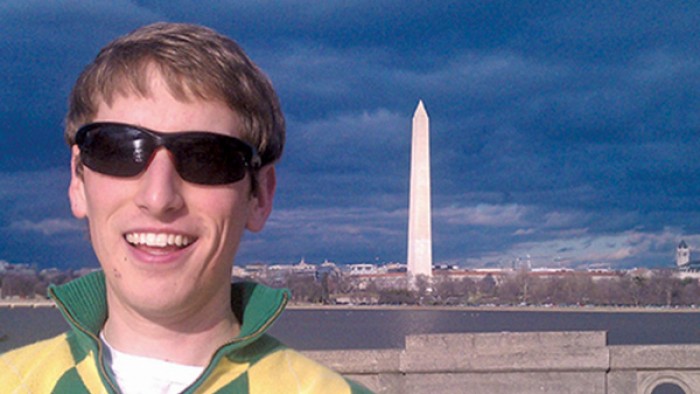 Matt Leasure initially thought he was aiming for law school. And then, as he progressed toward a BA in religious studies at the UO, he considered getting a PhD. But these two possibilities are on hold for now as he commits to an initial career trajectory that was not on his radar at all.
As with many students in the humanities, an unexpected world of possibility opened for Leasure (pictured), which paved the way to an early career in Washington, D.C.
Among his most formative UO experiences were courses that explored the dark side of human nature and his participation in the Inside-Out program, which took him inside the Oregon State Penitentiary to study literature with inmates.
"I always seem to be going head-first into controversial issues," said Leasure, a Eugene native who graduated from the Robert D. Clark Honors College in 2011.
This readiness to tackle the tough stuff was evident in the title of Leasure's thesis, "Symbolic Death: Suicide Bombing as Religious Martyrdom," which won the honors college award for best international thesis.
Controversial issues are also at the heart of his job as a legislative correspondent in Rep. Peter DeFazio's office in Washington. Leasure responds to constituent e-mails and letters, and prepares a weekly analysis of constituent concerns for DeFazio. He estimates that he processes about 1,000 e-mails each week for the congressman, with hot-button topics ranging from immigration policy to Social Security reform to timber harvest sales.
Leasure originally came to D.C. soon after earning his degree as an Americorps volunteer at a nonprofit called Bread for the City, a safety-net agency that provides food, clothing, medical care and social services. After a year in service there, he was hired into a staff position.
Here, too, his job required grappling with day-to-day challenges of everyday people—in this case, those in poverty or otherwise disadvantaged. Leasure was a caseworker whose clients included those struggling with drugs and alcohol, chronic homelessness and mental illness.
This job built directly on his experience with Inside-Out, a national program that brings college students together with incarcerated men and women to study together in a seminar behind prison walls. (The UO chapter is currently run by geographer Shaul Cohen.)
"It's hard to overstate the emotional experience of going into a penitentiary once a week, with the gates closing behind you," Leasure said. "And then studying with people who are not going to walk out with you—who are going to be there maybe a few years, or their entire life."
Leasure was profoundly moved by his interactions with the inmates, "the smartest, most passionate guys I've ever met."
Besides cultivating compassion for the inmates in his study group, Leasure also began to gain a new understanding of how public policy (e.g., "three strikes" sentencing) can play out in real life. Inside-Out "transformed the way I look at crime, prevention and how we reconcile policy goals with attempts to promote individual change," he said.
All this in turn built on his formal undergraduate education, where he delved into subject areas others might consider forbidding. For instance, he took Mark Unno's religious studies course on "the dark self" and David Frank's honors college class on torture policy. He worked with religious studies associate professors Deborah Green and Rick Colby on his suicide bomber thesis.
Ultimately, he sees no contradiction between his scholarly immersion in religious traditions and his budding career in government. "Both systems [religion and government] are designed to create cohesion in society," he said.
And he's not a fan of the cultural taboos on these topics. "I can't stand it that religion and politics aren't polite to talk about," he said. "I always want to talk about both."
—Lisa Raleigh