Yet Another Completion
Heisman winner Mariota rushed to a general science degree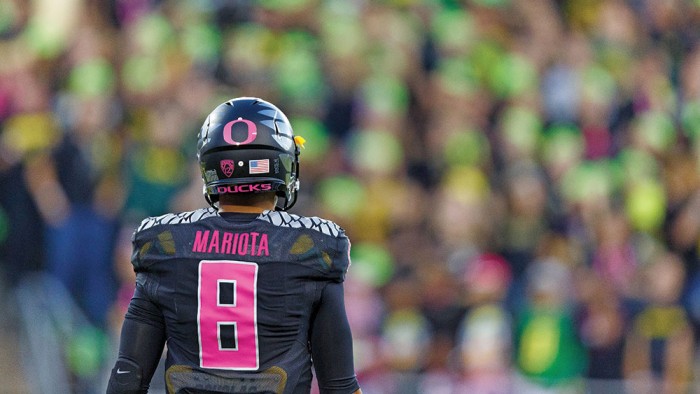 In fall 2013, Marcus Mariota could have chosen to leave college early for the fame and fortune of professional football. Even then—even before his 2014 Heisman-winning season—he would have been a top NFL prospect.
But he decided to return to the UO.
The Ducks' star quarterback felt that completing his education was just as important as completing passes downfield.
"I wanted to get my degree. I wanted to leave with that in hand," Mariota said at a press conference last year. "Football is only for a short period of time, and I wanted to prepare myself for after."
Most people only know "Super Mariota" the quarterback, the guy who memorized the entire UO playbook before ever taking a snap, who put in endless hours on the practice field, who analyzed every move he made in every game in search of ways to improve.
What they don't know is that he put that same effort into academics. Mariota last year received his bachelor's degree in general science, with an emphasis in human physiology, finishing with a 3.22 grade-point average.
He did it the way he runs the Ducks offense: Fast. Mariota completed his academic requirements in a little over three years and walked in graduation ceremonies last spring.
Tackling a science degree on an abbreviated timeline is at least as challenging as avoiding the blitz. Mariota took 20 or more credits a term during much of his college career, well above the norm.
In fall 2013, Mariota took physiology and human anatomy at the same time, something few students dare. He took his midterms in those classes while preparing for the big Stanford game. Last year, before the UCLA game in October, Mariota canceled a national media interview to study for a chemistry midterm.
Mariota became a household name across America in December when he won college football's Heisman Trophy, a first for the university. But he also collected honors off the field: Mariota received the Emerald Athletic Award for achievement in athletics, service and scholarship and was named to the PAC-12 conference's second-team all-academic lineup for earning a GPA of 3.0 or better.
"You are very deserving because of your play on the football field, but also because of the way you handle yourself on campus and in the classroom," biology instructor Cristin Hulslander said, in a Heisman video tribute by faculty members. "We're very proud of you."
Steve Stolp, Mariota's academic adviser and the executive director of UO Services for Student Athletes, said that ever since arriving at the university the quarterback has been a fixture at the Jaqua Academic Center for Student Athletes.
"He's just single-mindedly committed to not only being a great football player, he literally closes the academic center down," Stolp told reporters last year. "I know for a fact we were kicking him out of there when the building closed most nights."
Andrew Marcus, interim dean of the college, said skills that Mariota learned in the classroom translate loosely to the football field, just at a much faster speed—communicating clearly, thinking logically and (no surprise for this QB) acting creatively.
"Marcus Mariota is as much of a role model in his academic pursuits," the dean said, "as he is on the football field."
Most people expect Mariota to make his mark on the gridiron. But with degree in hand, he can call an audible and switch from sports to sports medicine after his playing days are over.
"Science is the future," Mariota says in an athletic department video. "You can change the world with what you are able to learn."
—Greg Bolt
Photo: Ryan Kang/Emerald Media Group