Holy Scholarship!
Revealing the secret identity of comics as a super field of study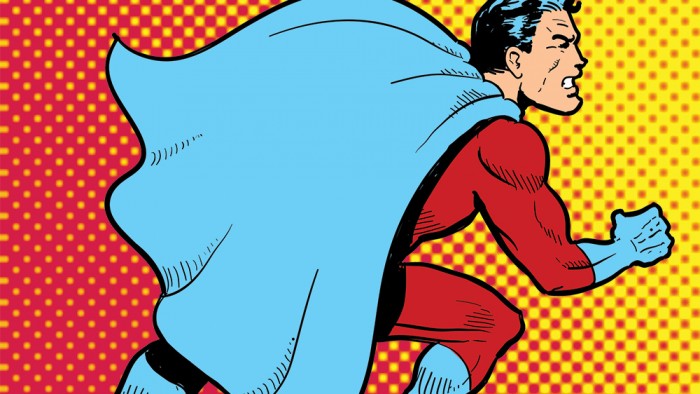 Black Widow is a Russian-born spy with wrist bracelets that fire energy blasts, and over the years she's fought crime alongside Iron Man and Captain America.
But when the superheroic femme fatale character showed up at Portland's 2014 Rose City Comic Con last fall, she had neither of those do-gooders in mind. Dressed in the Widow's trademark skintight black outfit, Anne Stewart, a 2012 UO grad, was at the comic book convention to see an action figure who doesn't shoot lasers from his eyes. Instead, she scanned the crowd for someone who was defying Comic Con's spandex-and-winged-boots dress code in favor of a suit and tie.
"It's always very interesting to me [at comic conventions]," said Stewart, who majored in English and Japanese. "I'll say, 'I studied comics in college under a guy named Ben Saunders,' and they'll say, 'Oh! Ben Saunders!'"
Yes, Ben Saunders. The buttoned-down University of Oregon English professor who specializes in the literature of the English Renaissance by day is in danger of being eclipsed by his charismatic and seemingly omnipresent alter ego: Ben Saunders, the Comics Guy.
It's a title that makes him cringe. Saunders, an expert in the history of British and American comics and cartoons, believes that the world of scholarship waiting within the panels of a comic strip is well beyond the purview of any one person—it would be like asking one professor to cover the entire history of English poetry, he says. Now in his third year at the helm of the nation's first undergraduate comics and cartoon studies minor, Saunders is quick to credit a team of academic colleagues who contribute their own special powers to a program that is as demanding as it is popular.
"People need to understand that this is an extremely challenging academic discipline, it's global and historically oriented, it has a cultural tradition spanning various countries and there is well over 100 years of cultural productivity in comics just in this country," Saunders said. "The thing I don't want to be is 'the comics guy.' The notion that there can be just one 'comics guy' does a disservice to the art form—and to the wider field of comics scholarship."
The Most Effective Form of Communication Ever Devised
It all began in 2009, when Saunders curated an exhibit called "Faster Than a Speeding Bullet: The Art of the Superhero" at the Jordan Schnitzer Museum of Art. The 1,500 who turned out on opening night set a record for opening-night attendance to a show at the museum. The crowd flooding in was so big, in fact, that then-university president Richard Lariviere couldn't get out; he turned to Saunders and said, "There's something here. What more can we do with this?"
Today, there are 25 to 35 students in the minor at any given time and Saunders' comics courses consistently fill—he'll teach as many as 45 in one class.
The comics and cartoon studies minor immerses students in an international, historical and critical perspective on the art of comics, from editorial cartoons to comic books to graphic novels. Students learn to think outside of the boundaries of particular disciplines and to analyze the interaction between images and text.
English professor Karen Ford, department head, said the minor extends the department's reach—not only by presenting cartoon texts as literature worthy of study but also as a vehicle for changing the way we think about the works of more traditional scholarly subjects like, say, Emily Dickinson, who sometimes drew cartoons in her handwritten manuscripts.
"Without the comics minor, I would never have thought to include her drawings in my poetry courses," Ford said. "The minor reminds us that the verbal and the visual are more interrelated than we generally imagine, and that pictures are also texts with multiple possible meanings that are shaped in turn by multiple contexts."
In addition to an introduction to comics and cartoon studies, courses in the minor cover arts and visual literacy, graphic narratives and cultural theory, art and gender, Latin American comics and Japanese comics (called manga) and animation (anime). Courses are offered through a range of departments, including comparative literature, East Asian languages and literatures, English, ethnic studies, Romance languages and others outside the College of Arts and Sciences.
Saunders calls comics "one of the most effective forms of communication ever devised," noting that everything from airplane passenger-safety instructions to electronics owner's manuals are examples of the comics form. Students in the minor explore why this mode of communication is so valuable, as well as the relationship between aesthetics, politics and culture.
"It just sounds insane now, but in the 1940s parents feared that exposure to comics would leave their children morally and intellectually retarded—this was a genuine belief," Saunders said. "Now you can get credit at college for studying comics. So students can learn something about shifting cultural values just by looking at the history of the medium itself."
Saunders' passion for the minor resonated with an anonymous donor who, in 2013, agreed to invest $50,000 annually in the program for four years, creating a $200,000 endowment. That has enabled Saunders to support student projects, explore additional courses and host guests, including writers Greg Rucka (Action Comics, Batwoman) and Matt Fraction (The Invincible Iron Man) and Eugene artist Jan Eliot, creator of Stone Soup. The money is also a resource for the funding of exhibitions and conferences.
"Right now, comics are the R&D division for so much popular media—so much of what you see in film, on TV and on the Internet is either focused on or working with material adapted from comics—it's inescapable," Saunders said. "Comics also combine words and pictures in a unique and often highly sophisticated way. Students in the minor are asked to think about comics and the relationship between word and image in a way they don't for any other discipline."
A Heroic Lineup
There's more to the comics minor than superheroes. Students learn to recognize French cultural stereotypes in the strip "Asterix," for example.
It's fair to say that Saunders has a tiger by the tail that is threatening to swallow him whole.
In addition to his academic responsibilities as a professor and the new director of the university's College Scholars program, Saunders is in constant demand as a speaker at university events and comics conventions. At Rose City Comic Con, for instance, where Anne Stewart did eventually find him, Saunders gave a lecture called "Batman's Shadows" and ran panels on "Reading Comics for College Credit" and the representation of women, people of color and queer characters in superhero comics.
One of his latest efforts is a partnership with the Experience Music Project Museum in Seattle, which specializes in popular culture. Saunders is curating a show that will open in 2016 on EC Comics, a 1950s-era American publisher of horror and crime-fiction comics and the classic satire, Mad.
All of these extracurricular activities mean that finding free time in Saunders' schedule is a job for Superman.
Fortunately, he has several colleagues who bring expertise to the minor in areas such as French and Spanish literature, Japanese art and film, comparative literature and cinema studies. Among them:
Fabienne Moore, an associate professor of French, teaches an upper-division course, War in French Comics, that covers the Paris Commune, both world wars and the Algerian war, as represented in eight to 10 bandes dessinées, or "BD" (literally, "comic strips"), showing the evolution of the genre. Students also read comics theorist Scott McCloud's Understanding Comics in French and engage in spirited debates—in French—about racialized representations and animal abuse in Tintin in the Congo, a comic by Belgian cartoonist Hergé.
Moore sees the minor as an important step toward legitimizing a field of study that has what she calls "an enormous potential for research."
"I find it fascinating that when I teach the class, my dreams at night happen in frames," Moore said. "It's a bizarre sensation but it confirms for me that the cognitive processes at work in reading images with text is very different from reading a book or watching a film.
"My secret wish," she added, "is to find a colleague at the university's MRI lab willing to record how the brain works when reading comics."
Tara Fickle, an assistant professor in the English department, asks students in her Graphic Narratives and Cultural Theory course to consider how social, political and economic forces influence the form and content of graphic fiction, one of her specialties. Students dissect works ranging from Art Spiegelman's Maus to the racial undertones in Tom and Jerry cartoons.
Students must learn the formal vocabulary of an unfamiliar medium—terms such as "the gutter" or "closure," both crucial to comics—then present cogent criticism through discussion and writing. It's a demanding task, but students are buoyed by the final project: They design their own comic book and produce a short write-up explaining their inspiration, process and goals.
"The best measure of a course's success is that a student comes out of it not just saying 'I learned something new' but 'I learned a new way of looking at things I thought I already knew how to look at,'" Fickle said. "The comics minor is a perfect example of this university's commitment to thinking progressively and productively about what a 21st-century humanities education should look like, and what today's student needs to be able to know and do to succeed in a rapidly changing world."
Glynne Walley, an assistant professor of Japanese literature, introduces students to the past and present of Japanese culture through manga and kibyoshi, or "yellowbacks," which are picture books from the 1700s and 1800s.
For the latter, one of his tools is Playboy, Roasted à la Edo, a social-political satire series that follows the travails of a wannabe sophisticate who never quite measures up to the social elite he so admires. "Students relate to that idea really well—'Am I cool?'" Walley said. "As someone who works on the past, one thing I'm always trying to get students to realize is that people in the past are still people. Making connections across distance and time is really important."
Akiko Walley, assistant professor of Asian art, teaches students the history of Japanese manga, using this globally recognized comics form as a portal for exploring a country and its culture.
Manga—"man" is Japanese for "casual," "ga" means picture—is inseparable from Japanese life. More than one-third of all printed books published in Japan fall into this category; after a devastating earthquake in east Japan claimed more than 15,000 lives in 2011, people turned to manga for healing, Walley said, relying on a medium that is always the quickest to reflect societal change.
Walley trains her students to identify the subtle differences that distinguish one category of manga from another: the use of lines, framing and fonts, for example, or even the positioning of dialogue bubbles, which accelerates or slows the pace of the story.
Her intent is for students to develop the ability to critically assess visual information—an empowering experience, Walley said, and a marketable skill in the digital age.
No, It's Not a Cakewalk
Yet despite the best efforts of professors to present comics to students through a kaleidoscope of thought-provoking perspectives, Saunders continues to battle two groups of skeptics: adults who sneer at what they see as the dumbing-down of higher education and students who are convinced they've discovered an academic cakewalk.
But consider Krazy Kat.
On the surface, George Herriman's early-20th-century newspaper strip (left) couldn't be simpler: A mouse throws bricks at a cat, which interprets this as a sign of affection. Yet Krazy Kat's mixture of offbeat surrealism and poetic, idiosyncratic language earned it status as one of the first comic strips to be treated as "serious art," and it remains a favorite of comics aficionados to this day.
At first take, though, the strip is almost impenetrable. Its language is, as Saunders put it, "a patois stew of Yiddish, Louisiana creole and Joycean phonetic puns." There is a nuanced poetic structure at play, the comic equivalent of a sonnet and something that requires multiple readings to identify. Herriman's life story, too, offers fertile ground for academics. The African American cartoonist passed as white for his entire adult life, his career intertwining African American, Native American, French and Caucasian cultures, and multiple social classes.
"My initial reaction was, 'Wow, this is kind of hard to read,'" said junior Ruby Lambie, a digital arts major. "The way Herriman portrays language in the strip was unlike anything I had ever seen. The development of the characters wasn't something that was apparent immediately. But the more you read it, the more you could connect with it."
Lambie found the strip easier to comprehend as her class delved into Herriman's life and times, exploring immigration, history, culture, society and the rise of modernity. They read Krazy Kat aloud in class, approximating the voice of its simple-minded protagonist, the better to decode the strip's idiosyncratic language and astounding phonetic approach.
Over time, Lambie became conversant in Herriman's tongue. Asked on a pop quiz to describe her reaction to Krazy Kat, she responded in an approximation of Herriman's own style: "It is cleva and fone-et-eek and it makes me heppy."
Lambie's progress would resonate with another comics and cartoon studies minor: Trace Cabot, BA '13, a major in cinema studies and English, who said the comics and cartoon studies program requires "not only profound thinking but very creative thinking, as well."
"It requires you to enter into this uncomfortable realm where you're attempting to interpret text and images in novel ways," Cabot added, "without any easy answers."
Disturb the Comfortable
Now a graduate student in film at USC, Cabot is a teaching assistant called upon to impart to students what he learned about Japanese animation from Akiko Walley and Steven Brown, a professor of comparative literature. He brushed aside the criticisms of the skeptics, arguing that such reactions only prove the capacity of comics studies to "disturb what is comfortable."
"There is this sense that literature is something safe and inert, a timeless artifact that we can't approach in a new way," he said. "Comics studies circumvents that and confronts you with something that requires the hard work of interpretation."
Put another way, UO sophomore Alex Milshtein said, "People will go to a museum to see art, people will go to a library to see words. But for some reason, when you combine those two things, people say, 'That doesn't work.'"
The comics minor has inspired a student comics magazine, Art Ducko, featuring "graphic stories" such as this one, drawn by students.
Milshtein is out to change that. Majoring in political science and history and minoring in comics and cartoon studies, he is the creative force behind Art Ducko (right), a comics magazine featuring the work of UO students and scheduled to debut winter term.
Milshtein's experience launching the magazine is a microcosm of the minor itself: Response is exceeding expectations. He had hoped, originally, to corral a handful of like-minded students and generate enough content for a modest product; today, six editors work with two to three artists each and Milshtein has more content than he can publish in his 30-page issue—"a good problem to have," he noted.
The inaugural edition will feature four "graphic stories," a submission on comics art criticism, a review of web comics and various strips and panels. Support has come from the Department of English, the UO Cultural Forum, the Digital Arts Program and Saunders himself, through funds from the aforementioned endowment (his official title, in the magazine masthead, is "Sugar Daddy").
Milshtein works closely with Saunders to plan out the magazine. An aspiring cartoonist himself, Milshtein sees Art Ducko as both a platform for talented student artists and a tool for generating even more momentum for the comics and cartoon studies program.
"We're trying to build comics culture through this magazine," he said. "I want the comics and cartoon studies minor to be huge. I want it to be a draw to the university."
—Matt Cooper