Social Sciences
Citizen Testimony
"We are women who don't usually have a voice because we are brown, we are short, we are fat, and they think that we don't represent the people, but we do. We are the face of Oaxaca." — from the testimonial of a Oaxacan woman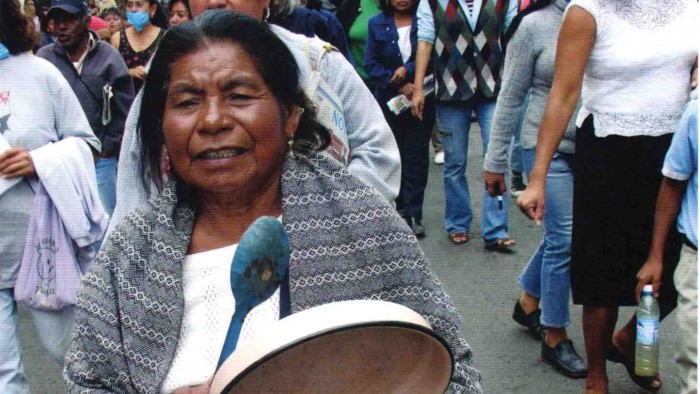 When UO anthropologist Lynn Stephen traveled to Oaxaca, Mexico, in summer 2006 with a research team of UO students and faculty members, she did not know she would be arriving in the middle of a social uprising.
"The atmosphere was electric with hope, fear, joy, sadness, violence, repression, and amazing acts of courage, humility, and cooperation all at once," Stephen recalls in her new book, We Are the Face of Oaxaca: Testimony and Social Movements, published in September 2013 by Duke University Press.
Starting in June 2006, the emergence of the Popular Assembly of the Peoples of Oaxaca (APPO), a coalition of more than 300 organizations, disrupted the Oaxacan government for six months. APPO took over state-run radio and TV stations and initiated a participatory political vision for the state.
Arriving in the midst of this social upheaval, Stephen, director of the UO Center for Latino and Latin American Studies and College of Arts and Sciences Distinguished Professor, shifted from her original project in Oaxaca. Her intent had been to film indigenous cultural activities for a course she intended to coteach at the UO with Mixtec community outreach workers, but she was soon inspired to deploy the tools of her profession (video camera, audio recorder and notebook) to capture the testimonies of ordinary Oaxacans affected by the uprising.
Her purpose became "to share the untold story of the 2006 social movement as experienced by those who participated in it," she explains in the introduction to her book.
Testimonials were already being broadcast on radio and television stations appropriated by the APPO, shared at public demonstrations, debated in homes and in the streets and disseminated around the world via the Internet.
Stephen immersed herself in these narratives, first gathering testimonials for a website that included video and audio interviews. But she soon realized the value in enlarging the scope of the project to what ultimately became a book project—but not a book alone.
Stephen's book is the first of its kind published by Duke, in that it integrates digital video and photographic content; it is published in both paper and e-book formats—with a website (faceofoaxaca.uoregon.edu) of accompanying digital material created and hosted by the University of Oregon Libraries and directly accessible through links in the e-book.
As reviewer Sally Engle Merry wrote, "The book and its website with recordings provide a wonderful opportunity to hear the testimonies of those with courage to speak."
—Lisa Raleigh