Humanities
Losing a Language, Regaining It
A linguist's work is motivated by the plight of families who lose the ability to communicate in their native tongue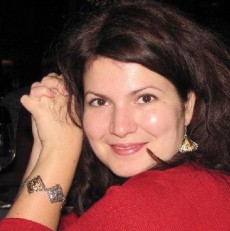 By the time she was 25, Anna Mikhaylova (left) spoke English as well as her native language, Russian. She was so fluent in English, in fact, that she instructed fellow Russians at a university how to teach it.
English came so easily to Mikhaylova that, while speaking in Russian with friends and colleagues, she would sometimes inadvertently resort to it for certain words, like "exit." This phenomenon, common among bilingual speakers, is called code-switching: switching back and forth between languages to find the right word or phrase to express a thought. There is no Russian equivalent for "exit" to describe a highway off-ramp, for example.
Mikhaylova was fascinated by this wrinkle in her bilingual dexterity. "I didn't feel like I was losing my Russian, necessarily, but I felt that I somehow wasn't as fluent, either," she said. "I wasn't sure if that was a good or bad thing. Taking linguistics classes opened my eyes to learning that code-switching was normal."
This observation motivated Mikhaylova—a new assistant professor of linguistics at the UO—to explore the "normal" of language acquisition, in general. In her research, she studies factors such as the age when a second language is acquired and sociocultural influences like economic status. How do these factors affect one's ability to learn a language?
Born and raised in Ryazan, an ancient city 120 miles southeast of Moscow, Mikhaylova began studying English as a second-grader. She later spent 10 months in New Jersey on a high-school cultural exchange program (where she was introduced to the "Joisey" accent, she laughed). She earned bachelor's and master's degrees from Ryazan State University and a master's in English from East Carolina University; her Ph.D. in linguistics is from the University of South Carolina.
Throughout her education, Mikhaylova was struck by the plight of families who lose the ability to communicate in their native tongue when they are transplanted into other cultures—for instance when the children of Russian immigrants can no longer speak Russian.
These children are part of a group of language learners that intrigues Mikhaylova: "heritage" speakers, who grow up with one language spoken in the home (their heritage language) and another in society at large. These individuals many times acquire two languages simultaneously, but they don't receive formal schooling in their heritage language; as a result, heritage speakers often struggle to read and write in their native tongue, or even to speak it.
"There is a lot of research on heritage speakers of Russian who can't hold complete conversations because they've forgotten the words, and my friends have talked about their kids losing their Russian," Mikhaylova said. "It seemed so sad, and it has inspired my research. I felt it was important."
When heritage speakers enroll at a university like the UO and wish to take classes in the language spoken in their home, they are often unprepared to study the language at a college level. As a result heritage speakers often need to be taught literacy skills, even though they might be fluent in the spoken language. (At the UO, there is now a specially designed program for heritage speakers of Spanish and a literacy course for Russian heritage speakers.)
This contrasts with the challenge of educating students who are studying a second language they didn't grow up with—for instance, native English speakers studying Spanish.
For decades, the method for teaching a second language centered on grammatical rules and vocabulary-building. But research eventually suggested that it was most effective to hear—and speak—a second language every day in conversation rather than learn the rules from a book.
Mikhaylova advocates for finding ways of putting these two groups in conversation with each other—literally. "Heritage speakers have a lot of connections to the language that second-language learners don't have," Mikhaylova said. "You have to create opportunities for both groups to communicate together."
Ultimately, she hopes to inform our understanding of bilingual learning and to improve the teaching of both heritage speakers and second-language learners. She can also envision improvements at the policy level.
"Students have been punished for speaking their native language in the classroom and when a native language is used in the workplace people wonder if that is good or bad," Mikhaylova said. "I hope that my work will help policy makers view bilinguals as multi-competent, rather than incompetent speakers of one or both of their languages."
— Matt Cooper