Humanities
Living in the Material World
New UO archaeologist leads a multi-year research and excavation project in Sicily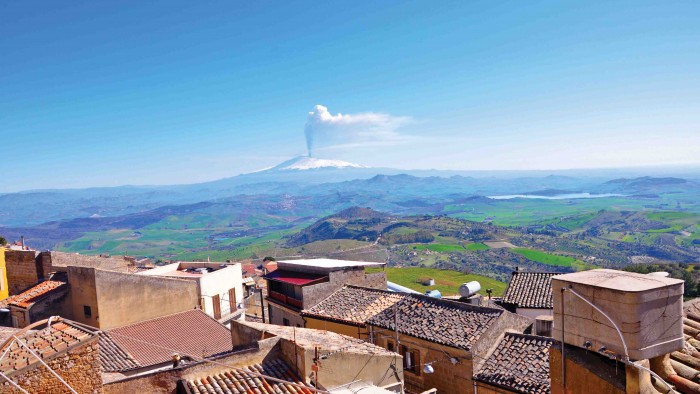 They rose at 6 a.m. each day, ate breakfast together and started digging by 7. They worked under a relentless sun—staying hydrated was key—but evenings brought relief and the promise of delicious dinners cooked by a Sicilian nonna, or grandmother.
Throughout this month-long excavation last summer in Sicily, archaeologist Alex Walthall—a new faculty member in the UO Department of Classics—pressed his students to think like detectives and formulate credible theories for interpreting the artifacts they unearthed. When, for example, an excavation revealed large ruts in the ground underneath, a debate ensued over whether the marks had been left by recent plowing or the wheels of a wagon pushed through the city more than two thousand years ago.
Connecting to the ancient world encourages students to consider how people live today, Walthall said. And it develops skills that will serve them regardless of what they do next.
"There's an element of critical thinking and communicating clearly in this kind of archaeological setting, and it's the best team-building, confidence-building situation that I've ever been in," Walthall said. "We have Morgantina alumni who are now at huge financial institutions, who are professors, museum curators, artists and web developers. These are skills that are transferable."
Walthall has worked for 10 years with major excavations at this site in east-central Sicily, called Morgantina. And with his arrival as an assistant professor in the classics department, his access to this important archaeological resource is now available to all UO students, as well.
Walthall's expertise as an archaeologist complements the work of his colleagues in classics. While the other faculty members in the department cultivate an understanding of the ancient world through texts and language, Walthall's vehicle is "material culture"—the relationship between artifacts and society.
"We have this very inclusive and broad approach that we can offer students," he said. "If they want to understand ancient Rome they can read the Latin authors with professors Lowell Bowditch and Mary Jaeger or study Roman art with professor Jeffrey Hurwit. And they can look at Roman material culture—everyday objects from cities, countrysides, landscapes—with me."
Last June, Walthall directed the first season of a multi-year research and excavation project at Morgantina focused on tracing developments that occurred in this urban center between the third and first centuries BCE. As field director, he is exploring the impact of agricultural taxation on trade and local economies in the ancient world, among other topics.
Walthall can produce far-reaching observations about historic societies through analysis of the smallest of artifacts. His research into an inscription on a 2,000-year-old piece of terracotta less than two inches tall, for example, provided rare material evidence of King Hieron II's powerful taxation system and the inclusion of Morgantina within this system.
Aside from the innumerable treasures to be discovered there, Morgantina is valuable because of the comparative safety it offers students (and the parents who will send them abroad). Many of the world's archaeologically rich sites are in volatile countries such as Syria, Egypt and Lebanon.
Just as important, though, is how Walthall runs his digs: Prizing a truly collaborative approach, he brings together experts from all facets of archaeology and students from universities around the country, creating an environment in which everyone's input is valued and equality is the guiding principle. It has been said of Walthall that he won't ask students to complete tasks that he can do himself.
"He really takes care of us," said Jasmine Kim, a UO classics major from Silverton, Oregon, who worked at Morgantina with Walthall last June. "I was quite nervous being the only one from the University of Oregon and the youngest one there. He really put me at ease and made this whole situation seem doable, and once I got there and got over my nerves, it was quite enjoyable."  
— Matt Cooper 
Photos courtesy Alex Walthall