Humanities
Arabic E-Book Expands Language Experience
Interactive tool will cover politics, history, customs and traditions, celebrations, literature—even cooking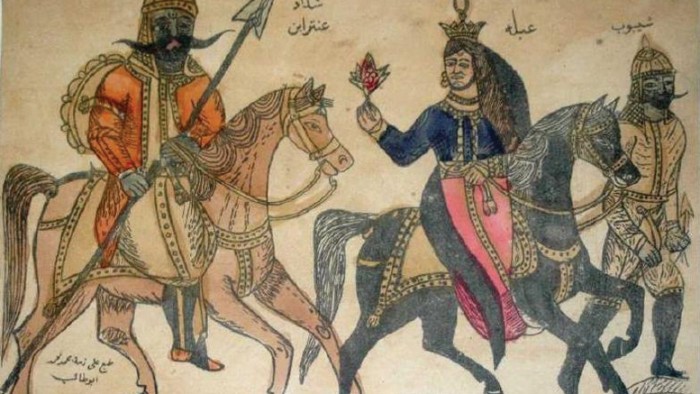 Antar and Abla (above) are the real-life Romeo and Juliet of Arabic history. He was a poet and slave who fell in love with his cousin; he earned her hand by completing challenges that included obtaining a camel from a distant kingdom. Antar's saga has been preserved through the ages by storytellers in Arab coffeehouses; symphonies have been based on his legend and one of the seven historic Arabic tribes was named for him.
The story of Antar and Abla is rich with historical and cultural references, making it just the kind of colorful material you might expect to find well-documented in Arabic textbooks. But the textbooks used overwhelmingly at universities across the U.S. give comparatively little attention to culture and history, instead dealing almost exclusively with language, grammar and vocabulary, say two Arabic language instructors at the UO.
Rana Mikati and Hanan Mohammad Hassan Ahmad have set about changing the status quo. They're developing an electronic, interactive "e-book" that will supplement language-oriented textbooks at the UO with material that covers the political and historical background of the Middle East, customs and traditions, celebrations, literature—even cooking.
"When you learn any language, you have to learn about the culture," said Ahmad, coordinator of the Arabic Studies program. "Culture is so integrated into the language, and vice versa. You have to have the background; you have to know what to do with those words you're learning."
Ahmad's research includes media coverage of the U.S. invasion of Iraq in 2003, as well as the pedagogy of teaching Arabic as a foreign language, and its translation and interpretation. Mikati specializes in Islamic history; she has taught modern standard Arabic and Levantine Arabic languages. At the UO she teaches beginning and third-year Arabic.
Their e-book proposal was one of five projects recently awarded funding from the UO's Tom and Carol Williams Fund for Undergraduate Education. The e-book, which will be available to UO students in Arabic courses later this year, covers the geography of Arabic countries, family organization, culinary traditions, music, cinema, media, religious identities, feminism and gender, literature, politics and poetry. Mikati and Ahmad will play to the strengths of electronic, online media by incorporating PowerPoint presentations, audio and video.
"Students taking the Arabic language course sequences at the intermediate and advanced levels are looking for more than language," Mikati said. "They're interested in comparative literature, journalism, history, religious and international studies. This e-book will support them as they pursue their own academic and scholarly interests."
— Matt Cooper