Human/Nature
Environmental humanities probe the most essential environmental question of all: What matters?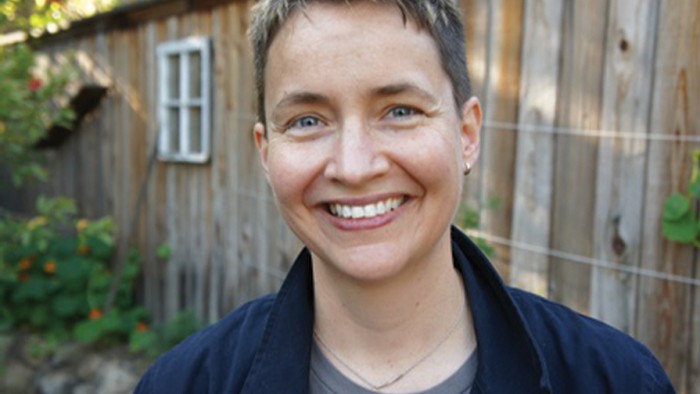 What does it mean to be resilient?
A psychologist might say it's the ability to spring back from adversity or loss, to thrive despite setbacks that seem insurmountable. Communities can be said to be resilient in their response to disaster. Even businesses can be viewed as resilient, evolving with changing market conditions that might cause less nimble competitors to close their doors.
And then there's large-scale human resilience in the face of environmental change.
In this instance, resilience refers to our ability to reassess—and if necessary, adapt—our long-held values, assumptions and habits (like fossil fuel consumption) that may require rethinking and re-envisioning in the interest of sustaining life on the planet.
This topic is of central concern to Stephanie LeMenager (above), a new professor of English at the UO and a self-proclaimed "environmental humanist." Her approach is drawing national attention, as evidenced by this recent New York Times article.
LeMenager founded and edits a journal called Resilience, a forum for experts in literature, art, philosophy and many other humanistic fields "to plot out an evolving conversation about what the humanities contributes to living and thinking sustainably in a world of dwindling resources." She was hired as the new Barbara K. and Carlisle Moore Distinguished Professor in English, a prestigious appointment that underscores her stature.
LeMenager's arrival, meanwhile, builds on the UO's ongoing commitment to the role the humanities play in grappling with environmental issues.
According to Alan Dickman, director of the Environmental Studies Program, "The humanities force us to ask, 'What are the important questions? How did we get here? What's important to us?'"
This line of inquiry is essential for framing the big environmental issues and pursuing viable solutions. "Those are fundamental questions for scientists to ask to do their work properly," Dickman said. "The humanities help identify the questions—they make the science matter."
For more than twenty years, the UO has been home to a thriving interdisciplinary Environmental Studies Program that all along has urged students to consider the human element behind the science and policy related to environmental change.
How do human traditions, belief systems and philosophical and aesthetic values define how we think about the natural world? How do works of art express and even influence the ways we view and consume natural resources like, say, water and forestland? What can the humanities tell us about where our points of resistance will be when faced with the realities of the future, like diminishing energy sources?
"The environmental humanities bring together philosophers, writers, literary critics, historians, performers and artists to explore and explain the connections between humans and the natural world in different cultures, places and times," said Judith Baskin, associate dean of humanities. "This kind of intellectual synergy is what a world-class university is all about."
Universities everywhere are expanding their environmental programs to incorporate this humanistic approach, but the UO has long been a leader in this regard—and is again leading the way nationally with new hires such as LeMenager, as well as increased outreach through events, journals and websites.
In the 1970s, English professors Glen Love, William Rossi, Suzanne Clark and Louise "Molly" Westling began teaching environmental approaches to literature and developing research and teaching in ecocriticism. "We recognized that we have to adjust to a new world," said Westling, a professor emerita. "The humanities are essential to understanding how we must adapt to our new reality." 
With this existing body of expertise, it was only natural that when the UO introduced a program in environmental studies in the 1980s, it encouraged undergraduates to study not just the natural and social sciences pertaining to environmental issues, but the humanities as well. This immediately distinguished the UO's program, Westling said.
Fast forward to 2003, when the UO launched its first official recruitment effort for a dedicated "environmental humanist" faculty member and hired philosopher Ted Toadvine. Now head of the philosophy department, Toadvine specializes in environmental philosophy and the philosophy of nature.
When he arrived, Toadvine found colleagues across disciplines eager to collaborate on courses that combine the sciences and humanities. With biology professor Brendan Bohannan, for example, he teaches a course on the philosophy of ecology, which delves into questions such as the ethics of biodiversity.
Thanks to the collaborative spirit of Toadvine and Bohannan, this has been a true marriage of two fields seemingly at opposite ends of the academic spectrum. 
"We did not want it to be two disciplines just stuck together," Toadvine said. "Brendan insisted that we both be involved with all classes, together, and model conversations for students. We picked texts that brought out the philosophical difficulties with ecology as a science. We wanted students to ask, 'What are the strengths of the scientific approach, and what are the limits?'"
The emphasis isn't on solving the big problems of ecology—it's on asking the right questions. "We don't give our students the answer at the end of the day," Toadvine said. "Because we don't know the answer."
Read about the thought-provoking cross-cultural literature undergraduates study in their introductory environmental humanities course.
Framing thought-provoking questions is also the special prerogative of graduate students. A glimpse into the humanistic questions they are pursuing can be gleaned from the profiles of current environmental studies doctoral students. (Each PhD student in the program names a "focal department" and half of this year's doctoral students have named a humanities department.) A sampling of interests from those who identify English as their focal department:
• Erica Elliott is exploring "the environmental and ethical implications of converting former nuclear sites into wildlife refuges."
• Shane Hall is interested in the ways environmental issues are "identified, misidentified or not identified, and portrayed in the mass media and literature," and also "the effects of so-called eco-tourism on the global south, and sustainable development."
• Taylor McHolm (mentored by LeMenager) is focused on "Western American literature and literature of the American West, and its overlap with policy and cultural conceptions of these environments."
As McHolm's area of interest suggests, his research crosses boundaries across both the humanities and social sciences. "It's a requirement that we talk to people [across disciplines] in really significant ways in order to get our PhD," he said. "The fact that that is championed by the university is really big."
Part of LeMenager's charge will be to more fully develop the university's program for graduate students like McHolm, and also for the hundreds of undergraduates majoring in environmental studies. "I want to get people in the humanities excited about applying their skills to practical ends for the environment," she said.
— Matt Cooper and Lisa Raleigh