By Lisa Raleigh
When a family member inquired about his bee-monitoring field research project, UO senior Keane Daly had an authoritative explanation at the ready.
Pollination can't be done artificially, he informed his relative. But it is essential to agriculture. And the only way to accomplish it—and sustain the production of flowering crops—is naturally. Thus the vital importance of bees.
Preferably healthy populations of prolific pollinators. Ideally native species. Like the bumblebee (Bombus spp.).
These were some of the takeaways, in terms of knowledge gained, for the students participating in the Sustainable Farms project—one of the field experiences offered last year by the UO's Environmental Leadership Program (ELP).
Yet the indispensability of bees was only one lesson learned; students also acquired a host of collaborative teamwork skills along the way.
Now in its twelfth year, ELP is a service-learning initiative that partners teams of undergraduates with local community agencies in an effort to jointly address environmental needs. Projects range from restoring wetlands to educating schoolchildren about the value of the forest canopy—all resulting in a demonstrable impact in the real world.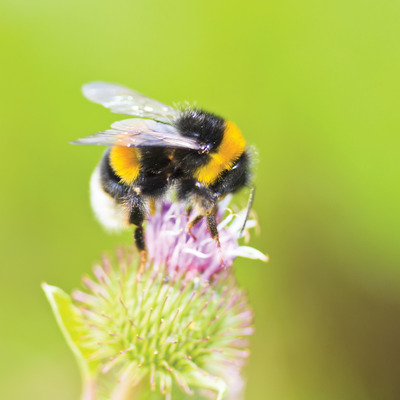 The Full Package
At the same time, each undergraduate participating in an ELP project hones a comprehensive package of professional skills that, depending on the project, can include conducting field surveys, performing data analysis, formulating recommendations, writing reports, presenting their findings publicly and taking a role in team leadership.
With the Sustainable Farms project, funded by the Katherine Bisbee II Fund of the Oregon Community Foundation, students got exposure to all of the above.
According to Daly, an environmental studies major, each of the nine team members was involved in every aspect of the project in some way, and each assumed a leadership role in a particular area, such as managing the website or writing a report.
In Daly's case, he was in charge of data collection on the six blueberry farms in the study, and he is now working to revise the final project report (coauthored by two other team members) to turn it into an article for both the Oregon Undergraduate Research Journal and also an outside professional publication, Northwest Naturalist. In this latter effort, he is collaborating with one of the student coauthors of the original report.
Another student, Aaron Poplack, was the colead on the second phase of the project—a pollinator conservation plan written for the Berggren Demonstration Farm on the McKenzie River. The student-written plan makes specific and extensive recommendations for creating a habitat that will support native pollinators and help the farm model effective practices to educate the public.
"It was really different to collaborate on a document with nine people," said Poplack, an environmental studies major with a minor in planning, public policy and management. And that's not counting the multiple editorial reviews by a faculty mentor, a graduate student reviewer and the clients at Berggren, as well as a peer review by a botanist and an entomologist—all necessary steps toward the plan's completion.
"It was a very rigorous and exhausting process for them," said Peg Boulay, the undergraduate coadviser for ELP. "But it allowed them to achieve professional-level work."
Bee Prepared
The Sustainable Farms project began in the classroom last winter, with the students learning first about methods for reviewing scientific literature and for conducting a monitoring project in the field. They also received training in another set of methods: the basics of professional teamcollaboration, such as meeting protocol (how to write an agenda, lead a discussion, take minutes) and the art of organizing and assigning tasks, coordinating results and determining next steps.
By spring term, the students were ready to take their newfound skills out into the field. The purpose of their research project, as stated in the executive summary of their final report, was to:
. . . monitor the behavior and population counts of Bombus spp. [bumblebees] and Apis mellifera [honeybees] on Vaccinium [blueberry] farms in the Willamette Valley of Oregon. With global pollinator populations declining there is a concern for the reproduction of plants that rely on biotic pollination, most notably food crops. Through this study we obtained a better understanding of the role each genus plays within pollination services.
The general method for the study was based on a protocol from The Xerces Society for Invertebrate Conservation. "But for the most part, we figured out what needed to be done," said Daly—i.e., what steps needed to be taken and who was going to perform them.
The team monitored the bees by establishing three transects at each of the six blueberry farms in the study (three large and three small farms) and then counting how many flowers were pollinated per minute by each species group (bumblebees and honeybees). They also performed a population count to establish the numbers of each species group at each location.
Their key finding: honeybees, on average, pollinated 3.52 flowers per minute and bumblebees pollinated 11.22 flowers per minute. In other words, bumblebees pollinate at a rate more than three times faster than honeybees.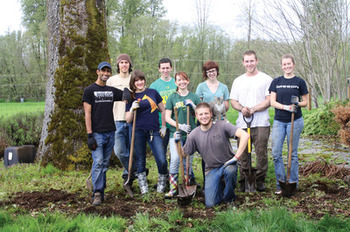 The Sustainable Farms team. Left to right, standing: Raj Vable (graduate student mentor), Miguel Pacheco, Meagan Maxon, Keane Daly, Kelsey Kopec, Amanda Whitcomb, Bret Cypel, Chelsea Johnson. Kneeling: Aaron Poplack. Not pictured: Lauren Ward.
"I've known all along that bumblebees are better pollinators," said Norma Grier, owner of Royal Blue Organics, one of the large farm sites. "But I didn't know how much better. The students had the real-time information."
From the population count, the team also found that honeybees were more abundant than bumblebees, but there was no strong correlation between population and other variables (size of farm and so forth).
But even though honeybees were more numerous overall, at certain sites bumblebees were more effective at pollinating blueberry bushes, despite their smaller population. The team observed that this occurred at farms with higher habitat assessment scores, meaning those (like Royal Blue Organics) that had better native pollinator habitat.
The Bee of Choice
This points to the crux of the Sustainable Farms study: bumblebees are native to the Willamette Valley and are active during the cool spring when blueberry bushes flower. In addition, honeybees are experiencing colony collapse disorder and other challenges that make the maintenance or renting of honeybee hives an increasingly risky expense for growers.
The students' data suggest that native bumblebees can provide important pollination services for local farmers— and might even be considered the bee of choice.
However, the bumblebee presents it own set of challenges.
Bumblebees are solitary ground nesters, which means that tilling can disrupt or destroy their nesting opportunities. In addition, they need diverse nectar plants blooming throughout the spring and summer.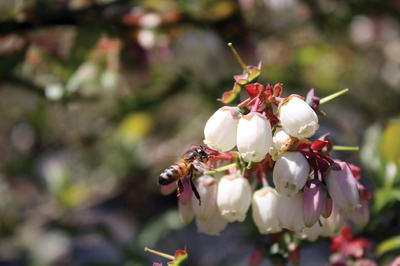 Recommendations for overcoming these obstacles—and more—are explained in part two of the Sustainable Farms project: The Pollinator Conservation Plan, a custom plan written for the Berggren Demonstration Farm. This farm—a joint project of the McKenzie River Trust and Cascade Pacific Resource Conservation and Development—is a thirty-acre parcel along the McKenzie River that is being converted from pastureland to organic food production.
The honeybee (left) is subject to colony collapse disorder and pollinates at only one-third the speed of the native bumblebee (above left).
Among the students' recommendations for creating a bumblebee-friendly habitat: minimize tilling; leave snags and abandoned rodent holes undisturbed as potential nesting sites; plant flowering cover crops between rows; create a mid-field hedgerow of native flowering shrubs that bloom in successive seasons to keep bumblebees happy and within range.
Their plan includes the team's design for a demonstration pollinator garden— intended to draw bees as well as butterflies and hummingbirds. The student writers suggest more than twenty flowers, shrubs and herbs as an additional nectar habitat.
As the owner of one of the blueberry farms in the study, Norma Grier was invited to attend the team's public event last June, and got to hear not only the Sustainable Farms presentations but also all the other ELP presentations on the full range of projects completed last year.
"Wow, it was really impressive to hear about all their work," she said. Because her farm had been one of the studied sites, she knew first-hand "what goes into these projects," making her all the more appreciative. "I was just flabbergasted at how rich the opportunities were for the undergraduates."