Humanities
Under the Same Roof
Linguistics professor Julie Sykes is a live-in resource for undergrads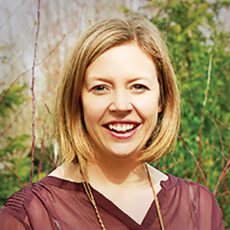 It's no stretch to say that Julie Sykes is especially close to her students. She lives with hundreds of them, after all.
Sykes, an associate professor of linguistics, is the current faculty-in-residence in the Global Scholars Hall, home to 400 UO students. Her duties range from helping students navigate the rigors of academics to sweetening up the day-to-day of dorm life: She has been known to deliver desserts door-to-door to her hall mates, accompanied by two small helpers—her daughters (ages 3 and 6).
Sykes describes the suite that she shares with her two young daughters as akin to a normal house, with three bedrooms and two baths. It's not just a faculty-in-residence program for her, she jokes—it's a family-in-residence program.
It was once more the province of private schools to place a professor under the same roof with undergraduates as a live-in resource. But faculty-in-residence programs in public universities have become increasingly common as well, and the UO has had a faculty member living on site in the Global Scholars Hall since it opened five years ago.
Sykes, now in her third year in this role, strives to be there when someone wants to talk about the stresses of campus life or a seemingly impossible amount of schoolwork.
"It's a powerful resource for faculty relationships with students," Sykes said. "And this is inherently what we do, right? Build relationships with our students."
She and her daughters also regularly host "mystery dinners" in which attending students are treated to a visit by a surprise guest—a dean, perhaps, or another faculty member. The family participates in as many hall activities as possible, together demonstrating that university professors are approachable.
Students entering college sometimes feel intimidated by faculty, said Michael Griffel, student housing director. By sharing living space, he added, students begin to see professors less as authority figures and more as people with whom they can connect.
The faculty-in-residence program will also be incorporated in an as-yet-unnamed residence hall opening later this year just south of the Global Scholars Hall, and in other halls as each is renovated, on a case-by-case basis.
"Students might be walking through their hall at 9 o'clock at night and see a professor by the fireplace or talking to other students," Griffel said. "Having that connection with faculty outside of a classroom is one of the top factors for student success."
Those connections work both ways. Sykes is gaining rare insights into the student's world, she said, and that serves faculty efforts to improve the college experience.
"If I'm on a strategic planning committee or we are rethinking undergraduate education, that lens into the non-classroom perspective really matters," Sykes said. "I get to bring that to other faculty."
The Global Scholars Hall is so-named because of its international focus. The hall celebrates cultural diversity through a variety of academic offerings, most notably its immersion programs in French, German, Spanish and other languages.
Living among students from a kaleidoscope of countries has been an enriching experience not just for Sykes but for her girls—they're learning how to write in Chinese, make a Japanese meal and otherwise familiarize themselves with a global community.
"The Japanese language group was having a sushi event, so my daughter rolled sushi," Sykes said. "She thought it was the best thing she's ever done."
—Matt Cooper