Humanities
Building on the Bard
New website captures changes to Shakespeare over time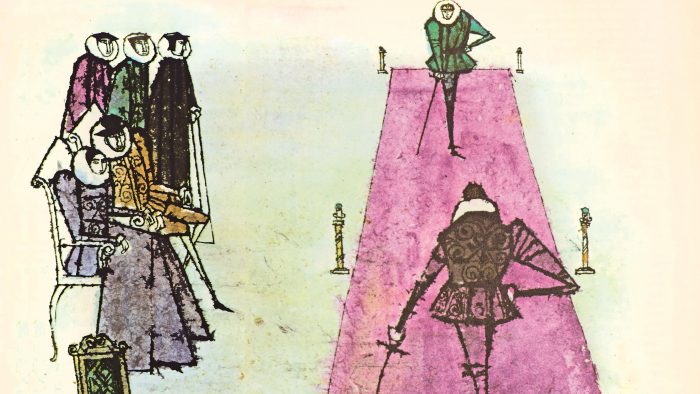 Time's Pencil includes beautiful imagery such as this—Hamlet and Laertes preparing to duel.
The ink had barely dried on Shakespeare's plays before other writers began tinkering with them.
They changed words and scenes as they saw fit. They tweaked story lines to give them happy endings. They tied up loose ends in plays that finished without a resolution that satisfied them. It continues today, with scores of wholesale adaptations of the bard's plays in literature, movies and music.
In fact, fresh takes on Shakespeare help his plays remain relevant 400 years after his death.
"Productions and performances have always been changed to make them appealing to new audiences," English professor Lara Bovilsky said. "If that's not done, they die."
Bovilsky recently launched a website on the evolution of Shakespeare's plays over the years—Time's Pencil, a name taken from a Shakespeare sonnet about the ways that time changes a person. The website—https://timespencil.omeka.net/home—features "exhibits" on the bard's original plays of the 16th and 17th century, his sonnets and adaptations by others, including children's literature; within each exhibit, Bovilsky has written detailed narratives that provide rich background, context and insight.
For example, in the exhibit "Shakespearean Fan Fiction," Bovilsky explains that the bard's characters enjoyed a surge of attention in the 19th century prompted by the growing popularity of the novel.
Click on one of her examples, "The Girlhood of Shakespeare's Heroines," and learn about work by scholar Mary Cowden Clarke, who published novellas in the 19th century depicting the childhoods of Shakespeare characters such as Ophelia, Lady Macbeth and Juliet. The webpage links to images of book pages from Cowden Clarke's Ophelia narrative, revealing key moments in the text.
Time's Pencil includes materials dating from the 17th to 19th centuries, and Bovilsky plans to add creative present-day riffs on the playwright such as Black and Deep Desires: William Shakespeare, Vampire Hunter (2015), a supernatural thriller that draws from Shakespeare's darker poetry.
Bovilsky got the inspiration for the project two years ago, when she was deeply involved in securing the UO's selection as a host site for an exhibit of a rare original copy of the First Folio, the first published collection of dozens of Shakespeare's plays. The UO was the only Oregon stop for a 2016 cross-country tour of the folio, organized in recognition of the 400th anniversary of the playwright's death.
In conjunction with the event, Bovilsky collaborated with Knight Library to display rare Shakespearean gems, including his second and fourth folios, in the Jordan Schnitzer Museum of Art. She also curated an exhibit in the library called "Time's Pencil"; buoyed by the response to this attraction, Bovilsky created the website—essentially a digital version of the exhibit.
Reviews are positive—on and off campus. UO senior Karissa Adams used Time's Pencil for a recent project in an advanced Shakespeare course, tracing the constant "updating" of the bard's writing across a comparatively small 70-year period from 1616 to 1685.
"I always assumed Shakespeare was good literature because it never changed," she said. "But the reason why we think of it as good literature is because it's changed to reflect our culture."
The website has also proven valuable to Eliza Greenstadt, an associate professor of theater and film at Portland State University. She used it for two courses in which students examined incremental changes in Shakespeare across centuries.
"The exhibits demonstrate the instability of the text," Greenstadt said. "They show students that the volumes they read and the performances they view are the result of many years of cultural influence."
—Jim Murez
Image credit: University of Oregon Rare Books Collection