Reporter, Speechwriter, Educator
Julie Weise has long been fascinated by the Latino experience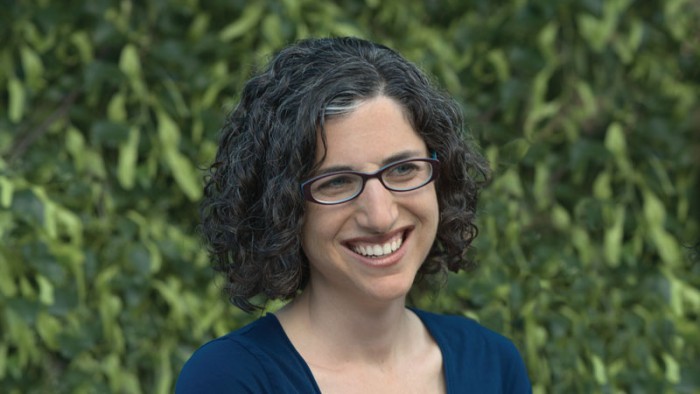 In 1994, California voters overwhelmingly passed Proposition 187, prohibiting undocumented immigrants from using nonemergency health care, public education and other state services.
Activists in California and across the country erupted in protest. Latino groups and local governments outside the state threatened boycotts. Carlos Salinas de Gortari, then president of Mexico, decried the law as xenophobic.
But at Julie Weise's private and mostly white high school in Los Angeles, "there was nothing going on," she said. In those classrooms—and in classrooms across the country—educators continued to teach racial and ethnic conflict in the United States as a story of blacks and whites, only.
That bothered Weise. She became, as she put it, "really curious about what the hell was going on" with the response of her city, and her country, to Latino immigrants.
Proposition 187 was eventually found unconstitutional and overturned, but by then Weise (above) had already become fascinated with the Latino experience in America. That interest eventually propelled Weise to graduate school and jobs on both sides of the border—including a stint with the Mexican government—during which she has repeatedly fought for awareness and protection of immigrant rights.
Weise got hooked on the history of Mexican Americans during a transformative class while she was an undergraduate at Yale. She knew that whatever career awaited her it would require fluency in Spanish, so after graduating in 2000 she moved to Mexico and started taking language classes while looking for work.
Weise eventually landed a job with an English-language newspaper in Mexico City. As a reporter, she enjoyed access to officials in the administration of Vicente Fox, the country's first opposition president in 71 years. It wasn't long before the 22-year-old Weise was offered—and promptly accepted—a position as a speechwriter for a cabinet-level adviser in the Office of the President for Mexicans Living Abroad.
After two years with the administration, Weise returned to Los Angeles, where she held jobs as a translator, paralegal, project manager and policy researcher at immigration-related agencies.
She also continued to work with the Mexican government. Weise helped the administration launch an information service at the Mexican consul in Los Angeles: Ventanilla de Salud—"window of health" in Spanish—is a walk-up counter that provides information on Latino health topics, counseling and referrals to health services available in local communities.
Ultimately, Weise decided that her future lay in academia. After receiving a doctorate in history from Yale, Weise taught at California State University and Santa Monica Community College before joining the University of Oregon as an assistant professor of history in 2013.
Today, Weise's research and instruction focus on themes of identity, citizenship, migration and race around the world. In other words, she's teaching a side of racial and ethnic conflict in the United States that had been denied to her as a student.
"It's completely shocking how little there was on Latinos in the high school and college curriculum (when I was a student)," Weise said. "It's still that way."
—Matt Cooper