Social Sciences
Madam President
Pacific Islands' first woman president is GSS alum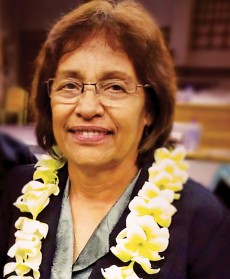 Ducks with an undergraduate degree in general social sciences have gone on to become bankers, nurses, attorneys and psychotherapists.
Now you can add president of the Marshall Islands to that list.
In January, Hilda Heine, '74, became that country's first woman president—and, for that matter, the first woman president of any Pacific Islands nation.
Heine (above) was elected after the previous president—a Portland State University alumnus—was ousted following a no-confidence vote of parliament. Heine, one of just three women in this governing body, had been the country's education minister.
It's not hard to imagine how busy Heine's calendar has become, and she was unable to make time for an interview. But filmmaker Jack Neidenthal, who ran unsuccessfully for the post in a previous election, told ABC News that Heine is smart, well-educated and politically savvy.
"She's a very impressive person when you sit with her in a meeting," said Neidenthal, a dual citizen of the U.S. and the Marshall Islands. "She's a very deep thinker about almost any issue that comes upon her."
Heine has amassed impressive academic and political achievements in the four decades since she left Oregon.
She received a master of education in curriculum and instruction from the University of Hawaii at Manoa in 1975 and a doctorate in education leadership from the University of Southern California in 2004. She has been a high school teacher and counselor, and she formerly served as president of the College of the Marshall Islands.
Heine has worked with the Pacific Islands Climate Change Education Partnership since 2009. The Marshall Islands (population 57,000) is made up of about 1,000 volcanic islands spread over 29 coral reefs between Hawaii and the Philippines. Most of the islands are less than six feet above sea level and are threatened by rising water.
As an advocate for women's advancement, Heine in 2000 founded Women United Together Marshall Islands, a women's rights group. She is also a member of the Pacific Women's Parliamentary Partnerships, which supports women in parliament with training.
According to the Pacific Women in Politics website, Heine's focus as president is integrity in national leadership, job creation, training, improved housing, a fairer tax system and family support.
Said Neidenthal to ABC News: "I just think we are in great hands."
—Alice Tallmadge