Humanities
Pathway to Pixar
Cinema studies alums land opportunities with the animation giant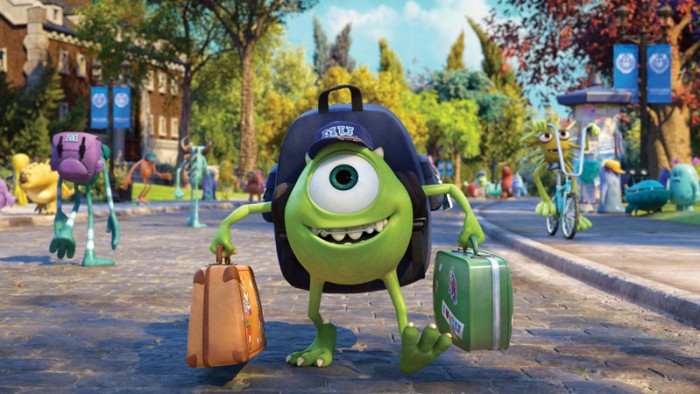 Maura Turner was a freshman when alumnus Greg Snyder spoke to her cinema studies class about his job with Pixar.
Now they're colleagues.
Turner, a 2014 graduate, is among a select group of Ducks who have recently capitalized on internships organized through cinema studies to land promising jobs in film and TV production.
How are they doing it? Through connections, preparation and—most of all—passion for the work.
At Pixar, Turner joins Snyder, '92 (communications and film), a film editor with credits that include Monsters, Inc., Ratatouille, Toy Story 3 and Monsters University.
Meanwhile, senior Leslie Seder just landed a production internship at Pixar after spending a year on a cruise ship filming, editing and producing a daily TV show.
"The UO cinema studies program is nascent, but it shows a lot of promise," Snyder said. "Everyone there is very enthusiastic and really committed to the craft, and loves filmmaking. There's a lot of amazing energy there."
Snyder is an excellent connection for Ducks interested in the film and media industry where, according to program Director Michael Aronson, who you know can be as important as what you know.
Cinema studies prepares students for opportunities with studios such as Pixar by combining career development and advising with the curriculum. Students can work with a staffer devoted to internship and career coordination while they take courses in prepping for jobs after graduation.
"If students want to major in cinema studies," Aronson said, "we have to show parents that they have a pathway to success."
The program's emphasis on networking is helping to pave that pathway.
Jackie Penn, '14, worked hard to make connections while in Ireland for a "summer abroad" program that led to an internship at Ripple World Pictures in Dublin, where she read scripts and did research for a new Irish TV series. Cinema studies graduates have also interned on the series Portlandia and found jobs with established TV studios and independent production companies.
Senior Brad Burke, owner of a production company, cited another advantage to the program: Unlike students at many other university film programs, UO students own the work they create.
"This has helped with every feature I've written," said Burke, who has three films in production. "It's allowed me to take short films made at the UO and go to festivals with them. It allowed us to take ownership of our own work, and that gives us a huge advantage."
Turner, meanwhile, credits her opportunity with Pixar in part to the nuts-and-bolts training she received in cinema studies about how to get a job—writing a strong cover letter and résumé, practicing an interview, crafting an "elevator pitch" on her strengths.
Pixar internships cover a range of experiences and no two days will look the same. Some interns meet one-on-one with animators, others delve into computer graphics software.
During her internship, Turner joined the production desk of a feature film. She worked closely with both the producer and director, assisting with needs across various departments. She saw how the pieces come together to make an animated film.
Her energy for the work clearly left an impression, opening doors for a permanent job. Turner is now a production assistant, working side-by-side with Snyder on a film project.
"People at Pixar are passionate about their work, and that's what they look for," Turner said. "I think they liked seeing I was passionate about production."
—Alice Tallmadge
Photo: © 2012 Disney/Pixar, All Rights Reserved