Excellence, Access, Experience
What the president's vision means for CAS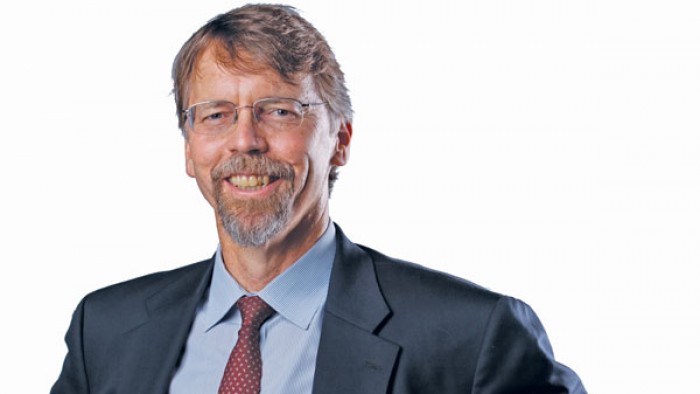 Thousands of Ducks had scarcely arrived last September when incoming President Michael Schill outlined his top priorities to faculty and staff: excellence, access, experience.
The president has since launched a sweeping effort to raise the bar of academic excellence by boosting tenure-related faculty and research; to improve access and affordability for those who want to come to the University of Oregon; and to ensure that students receive a rich academic experience inside and outside the classroom.
What does this mean for the College of Arts and Sciences?
There are two major components to a renewed commitment to academic and research excellence in CAS.
First, we must provide more resources for our outstanding faculty. It's no secret that our faculty receive less research support than comparable universities—and yet they've done more than one could ever expect with the resources they have. Given the long-term history of declining state funding and the need to direct tuition to student access and success, philanthropy must be the source for new faculty support. Don't be surprised if I visit you soon!
Second, the simple fact is that most of our PhD-granting departments are comparatively small. Growing the size of the research faculty is crucial—the president has committed to hiring 80 to 100 additional faculty.
Given that the college grants approximately two-thirds of all undergraduate degrees and three-quarters of the PhDs, many of those new faculty will be in CAS. In keeping with trends in enrollment and the president's research priorities, many of those new faculty will be in the natural sciences. However, I am equally dedicated to strong programs in our humanities and social sciences.
This growth comes at a cost. In recent months, I reduced the number of administrative staff and purely instructional faculty—also known as non-tenure track faculty—to open up resources to hire tenure-track faculty and support more PhD students.
We will also face significant resource challenges in creating new lab space and support for our additional science faculty. But growth in research faculty will elevate the profile of the university and enhance our support of economic growth and innovation across Oregon and the country.
To meet the president's vision of improving student access and success, we must ensure that more students graduate within four years. This reduces costs and debt and helps students launch into careers earlier in life.
To this end, CAS is putting tremendous effort into the College and Careers Building. Scheduled to open in 2018, this building will bring together faculty, academic advisers and colleagues who specialize in career trajectories. It's one-stop-shopping for students to align academic interests with career opportunities.
By targeting student success in this way, we believe their time to degree will be substantially shorter and, therefore, more affordable.
The new building, or Tykeson Hall, will also be key to the third component of the president's vision—student experience—by catering to the community within it. It will be a modern-day homeroom for students, with places to study quietly, engage in a forum-style group discussion or relax with friends after a day of classes.
Time and time again, our alumni tell us that their fondest memories are rooted in the loveliness of this campus, the community that is formed here and the caring faculty they encountered. Tykeson Hall will begin a new chapter in the UO student experience, and we'll extend it even further by seizing opportunities to improve our other facilities as well.
In short, the president's vision translates to broad changes in the college—changes that will preserve what is best about Oregon, while advancing our stature as a premiere American university.
Andrew Marcus is Tykeson Dean of Arts and Sciences. He is a professor of geography and proud parent of two UO graduates and three current UO students, all in the arts and sciences.
Photo credit: Kelly James